Rotator cuff tears
can be really unpleasant, causing shoulder imbalance or slower shoulder and arm mobility due to the shoulder pain. But in some patients, rotator cuff tears can show no symptoms or pain at all, so the patient is not even aware of the shoulder injury. The only person who can notice such shoulder injury is an experienced shoulder expert. This happened with Karen Hill, who was accompanying Freda Shafkowitz to her appointment with
Dr. Tehrany
. And suddenly they both were patients suffering shoulder rotator cuff tears!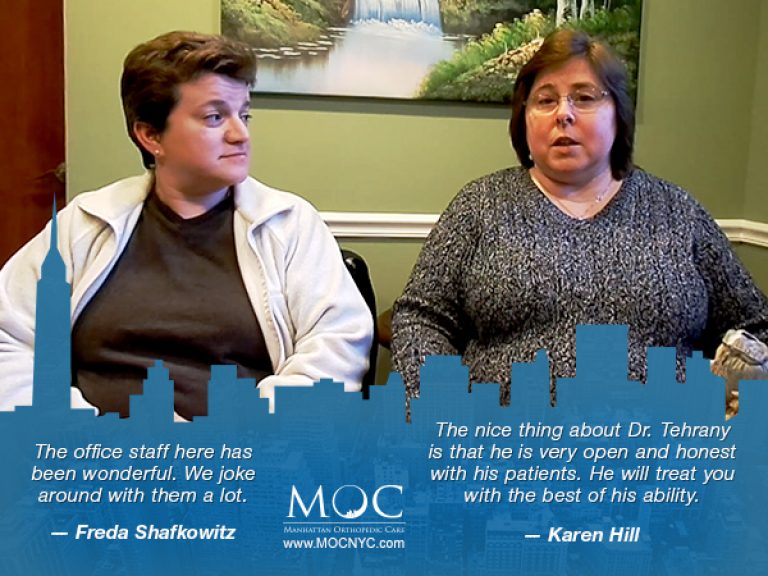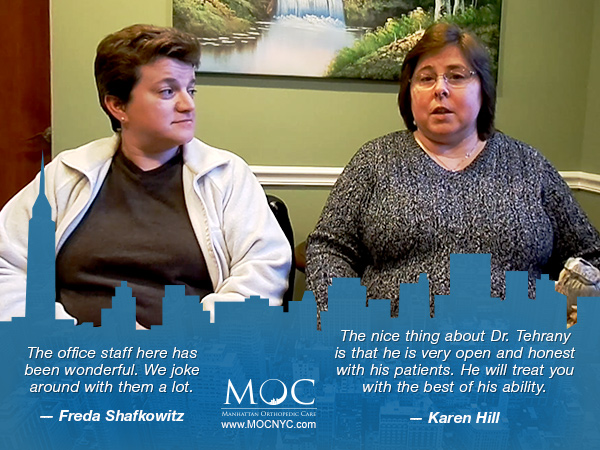 Freda had almost a total supraspinatus tear and Karen, as we mentioned, had a rotator cuff tear that she didn't know she had until she met with Dr. Tehrany. These two charmingly positive and humorous ladies had their
shoulder surgeries
performed by Dr. Armin Tehrany. They were referred by a physical therapist and they don't regret visiting Manhattan Orthopedic Care.
"To be honest, I'm thrilled that these unique women chose us to help them with the rotator cuff tears. It's good to see them back to their normal everyday activities." says Dr. Armin Tehrany.
To see why these ladies quickly befriended everyone at Manhattan Orthopedic Care, watch their video testimonial.
Video transcription: Freda: We were referred by Joe Saratino, my physical therapist that I've been going to for other things, previous to all of this and Karen was referred by… Karen: You! Freda: We both had rotator cuff tears, different things. Mine was almost a total supraspinatus tear and yours was… Karen: Mine was a rotator cuff tear that I didn't know I had till we came for your visit, and that's how good Dr. Tehrany is. Karen: The treatment process was great. The nice thing about Dr. Tehrany is that he is very open and honest with his patients. He truly assesses you, tells you what all your options are and does not push for a surgery, does not push for any type of treatment, just lets you determine what's best for your body and when you want to take what course of action. So, that was really nice, there was no pressure to do anything, to jump under the knife. It's whatever you are comfortable with – he will treat you with the best of his ability. The surgery was fine, recovery time was not bad. I went to rehab and I'm doing pretty well right now. Freda: My surgery was fine as well. But, two days after the surgery I got all different kinds of blisters all over my shoulder. I was allergic to something, but he took care of that and spoke to my dermatologist and we corrected that. Two weeks later I was able to do all the rehab that I was supposed to do two weeks previously. So, six months after the surgery is when I finish with my rehab and I've been doing fine since then. The office staff here has been wonderful. We joke around with them a lot. They seem to laugh with us… Karen: This is true. Freda: Every time we greeted very nicely with a "Hello!" they knew exactly who we are… Karen: Yes, staff is fantastic. The waiting time in the office is very limited. Yet Dr. Tehrany spends as much time as you need with him, explaining things, you are not rushed through your appointments and when you are satisfied with the end of your visit, then the visit is done. But, the staff is absolutely fantastic.
This patient was treated at the Staten Island Office.