arthroscopic SLAP repair
.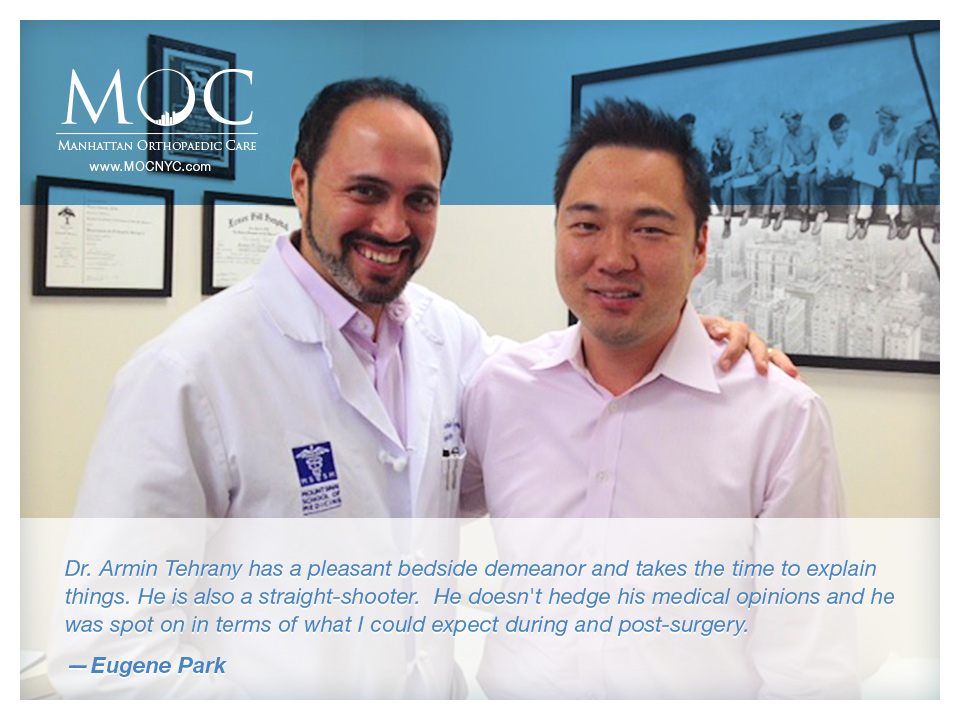 As always,
Dr. Armin Tehrany, top New York orthopedic shoulder specialist, 
and the staff at
Manhattan Orthopedic Care
made sure that Eugene had a pleasant stay, with nothing to worry about, except his being well. We received his warm admiration of Dr. Tehrany and his staff with open hearts. When a patient has a happy face, like Eugene has right now, a unique pleasurable feeling is being born.
"Five weeks after the arthroscopic SLAP repair, I am happy to report that my recovery is right on track. My surgery went off without a hitch. I'm making fast and steady progress thanks to Dr. Armin Tehrany and the physical therapy and home programs we've put into place.", wrote Mr. Park in his patient testimonial. "In my opinion, there are several reasons that favorably distinguish Dr. Armin Tehrany from others: Administration – Intake, scheduling, and billing have been very efficient and headache free (kudos to the administrative staff); Facilities – The Manhattan office and surgical center are a top-notch and conveniently located; Dr. Armin Tehrany himself – Dr. Armin Tehrany has a pleasant bedside demeanor and takes the time to explain things. He is also a straight-shooter. He doesn't hedge his medical opinions and he was spot on in terms of what I could expect during and post-surgery."
Thank you Mr. Park!
This patient was treated at the Manhattan Office.