Bleacher Report SiriusXM Radio: Dr. Armin Tehrany talks about Cristiano Ronaldo's knee ligament injury
Euro 2016
took its place in several cities across magnificent France. In addition to the excitement and the perfect game, the fans also witnessed a few painful
knee injuries
that occurred in players. Even though all injuries gained the world's attention, one injury, in particular, shook the fans to the core and brought a big cloud of concerns. During the final match, while Portugal and France competed for the glorious trophy,
Cristiano Ronaldo
had to cheer his teammates seated on the bench due to a knee injury he suffered. Ronaldo hurt his knee in a tackle with West Ham star, Dimitri Payet. Led by his ambition and strong will to take the trophy to his homeland, Ronaldo tried to recover from the injury and continue playing. Unfortunately, after he quickly ran forward, he pulled up and left the court in pain and tears as he knew his hopes of leading Portugal to an international football success were over.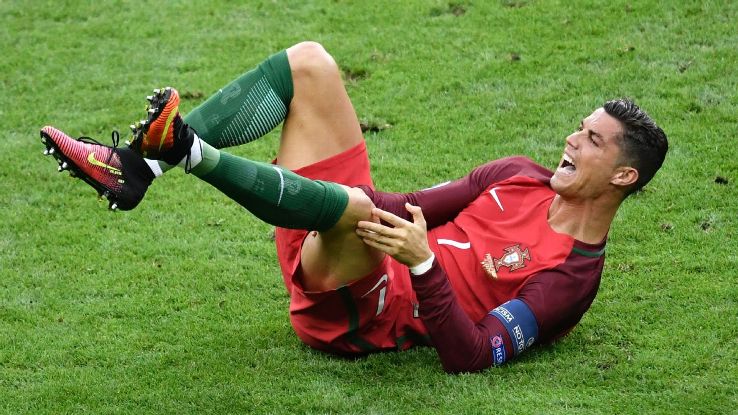 Image source: espnfc.com
The ligament knee injury that raised a lot of questions
Shortly after the match, the
Soccer Sunday
segment that aired on
SiriusXM's Bleacher Report Radio
covered Ronaldo's
knee ligament injury
. The hosts Ryan Bailey and Will Tidey asked
Dr. Armin Tehrany
to join the show and discuss the seriousness of Ronaldo's knee ligament injury. In the brief, yet informative interview, Dr. Tehrany, a specialized knee surgeon with an impressive experience in treating various types of knee injuries, weighed in with professional tips on preventing knee injuries in athletes. Moreover, Dr. Tehrany shared his personal experience with common soccer injuries that he successfully treated in his practice. Following is a brief transcription of the interview that aired on SiriusXM's Bleacher Report Radio.
Ryan Bailey: Soccer Sunday, welcome back ladies and gents, I hope you are having a good time with us on Soccer Sunday this morning, we certainly are. Bleacher Report Radio with you every Sunday at 7 until 9 Eastern. Myself Ryan Bailey and my traffic co-host Mr. Will Tidey joining us from the beautiful Wilmington, North Carolina. We have a very, very special guest joining us on the Voltage Hotline to talk about a certain Mr. Cristiano Ronaldo. You would have noticed in the EURO 2016's final last Sunday evening that Ronaldo got a certain injury in his left knee, a ligament strain in his left knee. He wanted to fight on and play that game, but he eventually had to sit and come to it. We are going to talk to Dr. Armin Tehrany of the Manhattan Orthopedic Care, who is going to talk to us all about that knee injury right now on the Voltage Hotline. Good morning, Dr. Tehrany, thanks for joining us so much. Dr. Tehrany: Good morning, it is my pleasure. Ryan Bailey: Well, let's start talking about that injury Ronaldo has, a ligament strain in his left knee. How common is that injury, how often do you see it in sports people, and why is it that the knee is such an issue in soccer? Dr. Tehrany: ACL Injuries, which multiple reports have suggested that if the injury that you have is opposed to an ACL, is actually a very common injury and it happens because of the side-to-side movements that players have. In the case of Ronaldo, it was the fact that he got hit on the opposite side of that ligament. Knee injuries are more common just because of the fact that in this sport we don't use the shoulder and the arms in the sport of soccer, and so we see knee injuries and ankle injuries more often than for example football, where we see it in the shoulder. Will Tidey: Dr. Tehrany, thanks so much for coming on, it's Will here. On the subject of the knee, as the game has changed over the years, there has been lots of conversation about the cleats and the footwear. Do you think that that could have any impact on the great number of knee injuries that we are seeing these days? Dr. Tehrany: I think the footwear helps by allowing for the running to be faster, and for the foot to be planted a little bit better, but honestly I think it's just a type of sport that we have. It's just a rough sport for someone susceptible to injury; because of the twisting activities we are getting hit. In the sports we are getting a lot more aggressive than we used to be, the players are getting a lot more aggressive and stronger than they use to be. Multiple studies have shown that AstroTurf is more likely to cause an injury in soccer than grass, so, there is a variety of different factors that are involved here. Ryan Bailey: Dr. Armin Tehrany of Manhattan Orthopedic Care joining us on the Voltage Hotline right now. You can find his practice at mocnyc.com. Dr. Therany, with Ronaldo's injury here, how difficult is it going to be for him to come back from that? Is it likely in an instance where you have a ligament strain that you can completely be the same player afterward? Dr. Tehrany: That's a really good question. I think it's hard to say that anyone who gets an ACL injury is always going to be able to feel 100%, even if the ligament heals, because psychologically that player might feel concerned about the lineage. But there are 3 different types of injuries that you can have with ACL. There is grade 1, 2 and 3 – grade 1 being the mild type, and grade 3 being a more severe, possibly requiring a surgery. It appears that Cristiano's injury is not Grade 3, and probably does not need a surgery which is a good thing. It will probably take about 3 to 8 weeks for him to come back, but you never know. We have to see how things go.
Despite the severity of Ronaldo's knee ligament injury, he quickly gained his strength back. The thorough medical evaluations showed that Ronaldo suffered a stretch in the knee ligament, known as MCL sprain, and fortunately, a partial tear that required a simple knee surgery. As Dr. Tehrany said in the interview, Ronaldo's injury was a Grade 2 knee ligament injury which meant a smooth and easy-going treatment. With a short video on his
Instagram account
a month after the injury, Ronaldo greeted his fans saying: "I wanted to tell them that all is well and that I will come back much stronger. Thank you, long live Portugal!"