CBS News: Dr. Tehrany Analyzes Mets' Yoenis Cespedes Right Quadriceps Injury
Dr. Armin Tehrany
analyzed the Mets' Yoenis Cespedes' right quadriceps muscle strain injury and its connection to playing golf, a topic that has sparked a lot of controversy in the past few days.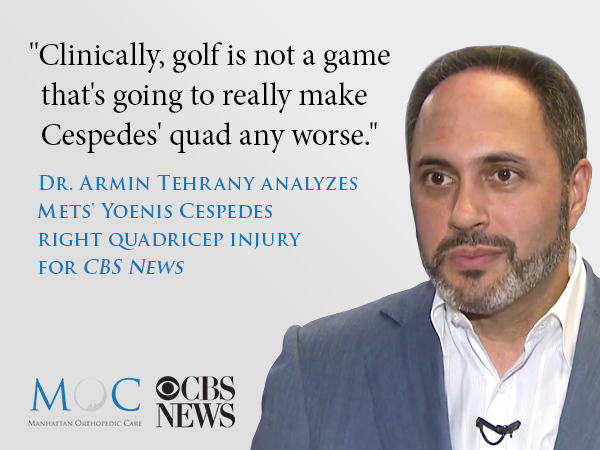 A quadriceps muscle strain or thigh strain is a common tear in one of the muscles at the front of the thigh that can cause mild discomfort if it's smaller, or severe pain if it's a complete rupture. This kind of quadriceps injury usually occurs when a muscle is stretched beyond its limits. Cespedes first strained his quad on July 8
th
, but he continued playing despite the injury. However, during Wednesday night's Subway Series game, he re-injured his muscle and got placed on a fifteen-day disabled list as a result. In addition to the DL placement, Cespedes has been facing a lot of criticism from his fans, who are not only aggravated by his continuous play throughout the initial injury, but by the fact that he has been golfing all through last month.
When asked to provide his opinion as to whether playing golf would interfere with the quad rehab, Dr. Tehrany responded that "clinically, golf is not a game that's going to really make Cespedes' quad any worse."
Furthermore, Dr. Tehrany explained that, from a psychological standpoint, golf can even be something that can calm Cespedes while he is on the disabled list, and that he is an experienced player who can most definitely continue golfing without hurting his quadriceps muscle any further.