Dr. Armin Tehrany is Acknowledged as Top Doctor in Orthopedic Surgery
best orthopedic surgeons in New York
,  
Dr. Armin Tehrany, M.D
. has been named a Castle Connolly Regional Top Doctor in the field of Orthopedic Surgery, and included in the highly selective list of Castle Connolly Regional Top Doctors® at
http://www.CastleConnolly.com/
.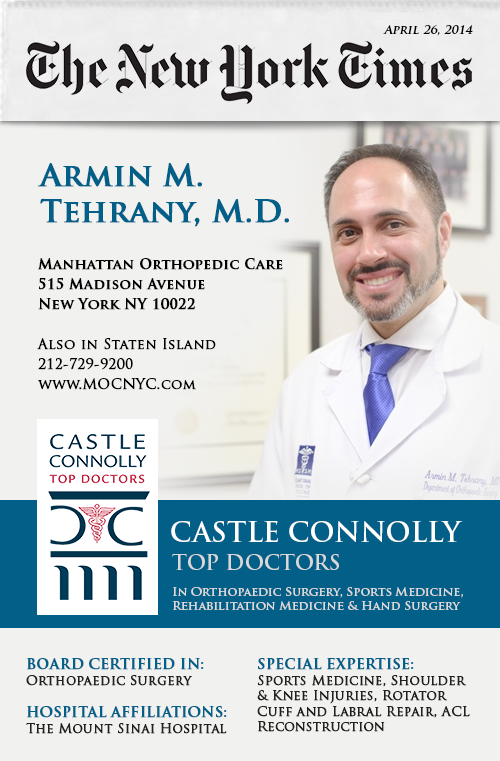 The most significant aspect of this acknowledgement comes from the fact that all doctors included in Castle Connolly Top Doctor listings are peer nominated. When the nomination process is over, a physician-led research team reviews and evaluates the nominations, giving them their final score.
"It is my honor to be nominated and voted as a Regional Top Doctor by Castle Connolly Medical Ltd, especially when such recognition comes from peers and colleagues who I truly respect, and whose work and knowledge I admire. I gladly accept this acknowledgment as a motivation to continue making a difference in the field of Orthopedic Surgery, Orthopedic Care and in people's lives," says Dr.Armin Tehrany without hiding his excitement.
Dr. Armin Tehrany's selection as a
Regional Top Doctor
places him among the most respected physician leaders in the New York metropolitan area and community. Dr. Tehrany's vast experience and superior proficiency in treating all types of Orthopedic Conditions, including those of the upper extremity, lower extremity, and spine, are crucial for this respectable nomination and acknowledgement. In addition, he is especially recognized for his proficiency in minimally invasive treatments of the shoulder and the knee, including rotator cuff repair and dislocation repair in the shoulder, as well as meniscus and ligament reconstruction of the knee.
The Top Doctor Nomination Process
The Castle Connolly nomination process is peer based. All licensed MD's and DO's are invited to participate and nominate doctors that they consider to be best in their fields. Hospital presidents, CEO's and VP's of Medical Affairs are also invited to join the nomination process and acknowledge the physicians that they believe should be recognized as Top Doctors. Castle Connolly's online database lists detailed profiles of more than 36,000 top specialists and sub-specialists across the country, all of whom have been nominated by their colleagues.
The Top Doctor Selection Process
The Castle Connolly selection process is very rigorous. The review of all nominations is done thoroughly, carefully and above all, objectively. Once all nominations are submitted, a physician-led research team starts reviewing and evaluating all nominees. The team reviews the credentials of each nominated doctor, including their medical education, medical training, board certification, patient care, hospital appointments, disciplinary histories, and more. Only after a thorough review of this kind can a physician be chosen to be listed as a National Top Doctor or a Regional Top Doctor. National Top Doctors are the top referral specialists that attract patients from a wide geographical area and sometimes from across the country; Regional Top Doctors are the physician leaders in their communities and metropolitan areas. A crucial aspect of the nomination and selection process is that doctors do not and cannot pay to be included as a Castle Connolly Top Doctor.
About Castle Connolly
Castle Connolly Medical Ltd. was founded in 1991 by John K. Castle and John J. Connolly, Ed.D, with a sole mission to help patients find the best healthcare. The organization's nationally renowned guides, America's Top Doctors®, America's Top Doctors® for Cancer, and an online searchable database on their website which lists more than 36,000 physicians, are highly regarded by physicians, hospitals, and patients alike. Castle Connolly's rigorous selection methods and national media recognition have enabled it to become America's trusted source for identifying Top Doctors.