Dr. Armin Tehrany discusses Odell Beckham's ankle sprain on United International Press
ankle injury
that disabled him from playing the Giants' final two preseason games. According to the report issued by the club's officials, as a result of the injury, Beckham might miss the first couple of weeks of the season since he needs to rest and recover from the stressful
ankle sprain
.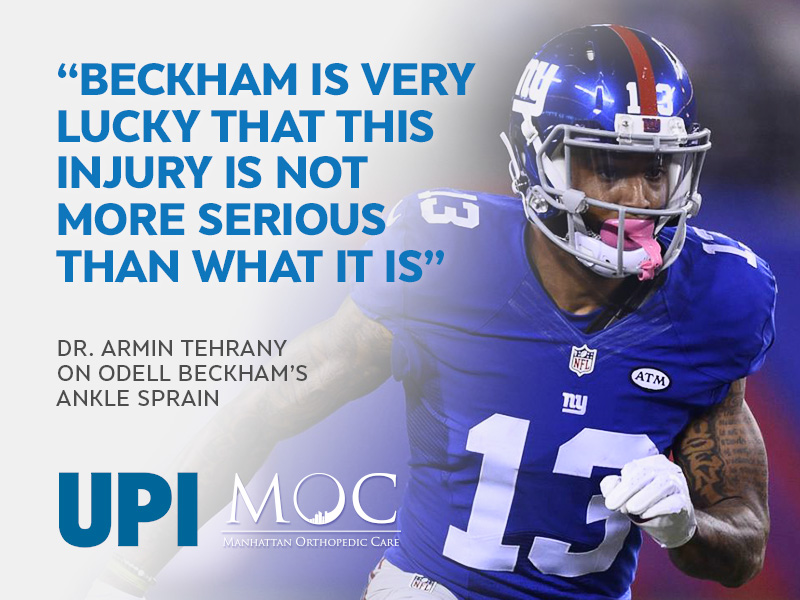 Image source: UPI.com
With the start of the new NFL Season almost here, the news about Beckham's injury came as a shocking surprise for the NFL fans. The
United Press International
covered the story of Beckham's injury. For the purpose of the story, the editor of United Press International asked
Dr. Armin Tehran
y
to share his expert opinion on ankle sprain, one of the most common injuries among sports players. As a remarkably experienced orthopedic doctor, Dr. Tehrany was able to recognize the severity of Beckham's injury right after seeing the hit that the superstar took during the Giants' second preseason game. Beckham took the hit to his left leg while his cleat was stuck in the ground and his leg folded under his body. According to Dr. Tehrany, the ankle sprain is best possible outcome in this painful story of Beckham's injury. In his professional opinion, the way Beckham landed on his leg could have resulted in a terrible ankle fracture or cartilage injury requiring complex surgery and long recovery. On the question about the length of the recovery period required for ankle sprains, Dr. Tehrany told the UPI editor that it varies depending on the severity and location of the sprain.
"Ankle sprains can take anywhere from 1-12 weeks to resolve depending on severity and location. Rehab will include RICE [rest, ice, compression, elevation] and strengthening of the surrounding soft tissues."
Further, in the story, Dr. Tehrany explains that high ankle sprain typically damages a different area of the ankle anatomy than the low ankle sprain, thus, different ankle sprains require different treatment and have a different recovery period.
"A high ankle sprain could take much longer to heal than the more typical ankle sprain," concluded Dr. Tehrany.
The complete story is available at
UPI.com
.