Daily News: Dr. Tehrany comments the unusual shoulder dislocation that Michael Conforto suffered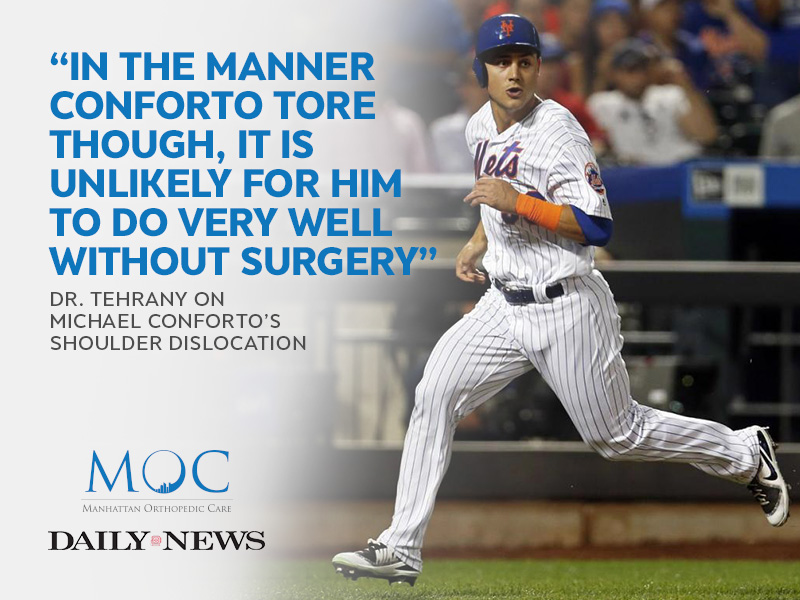 Image source: Daily News
The editor at the Daily News who covered and followed Conforto's injury reached out to
Dr. Armin Tehrany
, one of the best
shoulder doctors in New York
, for a professional opinion and expert analysis of the upcoming proceedings for Conforto's shoulder. Led by his profound knowledge in shoulder diagnosis and treatment and vast experience in orthopedic in shoulder surgery, Dr. Tehrany recognized the severity of the
shoulder dislocation
and noted that it could be fairly difficult for Conforto to come back from it. After the initial examination and MRI scan, Conforto was diagnosed not only with a dislocated shoulder, but a tear in the posterior capsule.
"In the case of Conforto and in the manner he tore though, it is unlikely to do very well without surgery," said Dr. Tehrany.
In his professional opinion, the shoulder surgery is the best option, however, the recovery and rehabilitation process is a tedious one that can disable Conforto from playing in the next four to six months. According to Dr. Tehrany, the complexity of the surgery depends on the extent of the tear and the quality of the tissue that remained. It is believed that Conforto has already suffered a shoulder dislocation in the past, and now, if he chooses to proceed without surgery, his previous injury can significantly complicate his healing progress. "
A tear in the posterior capsule could be treated conservatively, or nonoperatively, scar in and do very well
," Dr. Tehrany said, however, Dr. Tehrany also confirmed that players who have had dislocated shoulder in the past are at risk of having it again in future.
"He was likely a loose-jointed individual, there is nothing he could do about that," Dr. Tehrany said. "It's a combination of genetics and bad luck."
While the surgery means that Conforto will not be ready and in shape for the spring training, it also means that the elevated risk of dislocating his shoulder for the third time will be completely eliminated. According to Dr. Tehrany, a successful surgery and proper rehab and recovery can smoothly enable Conforto to rebuild his shoulder and progress to an improved shape and higher level of success. On Monday, the club's official spokesperson announced that Conforto will go for a second opinion. Dr. Tehrany's expert opinion was also included in the story that
followed the announcement
. Once again, he highlighted the importance of the shoulder surgery as a treatment that can eliminate the risk of future shoulder dislocation. The complete story is available at
NYdailynews.com
.