Rotator cuff tears
are super common
shoulder injuries
among people of all ages. They are commonly seen in athletes and people with jobs that require repeatedly performing overhead motions.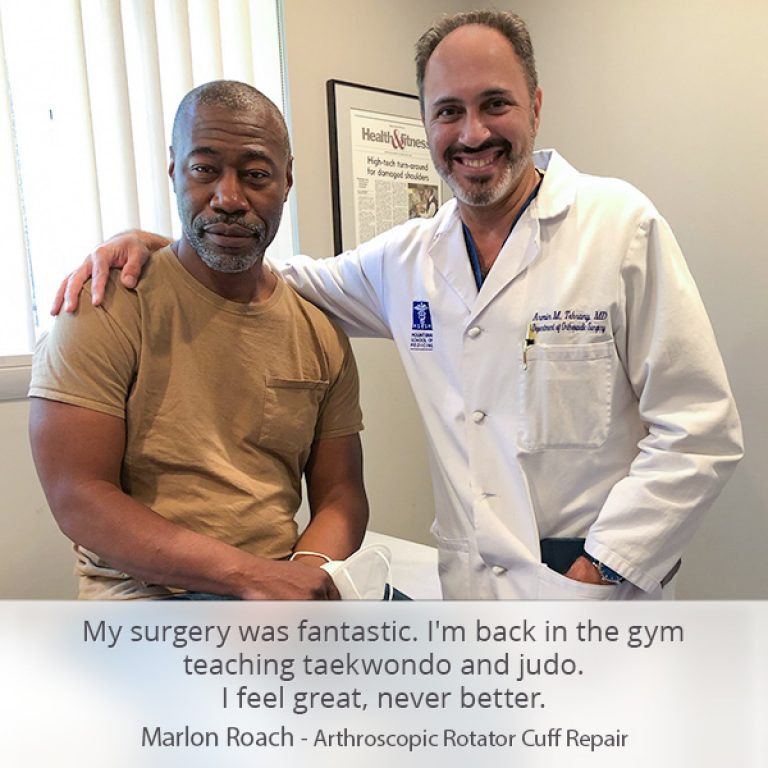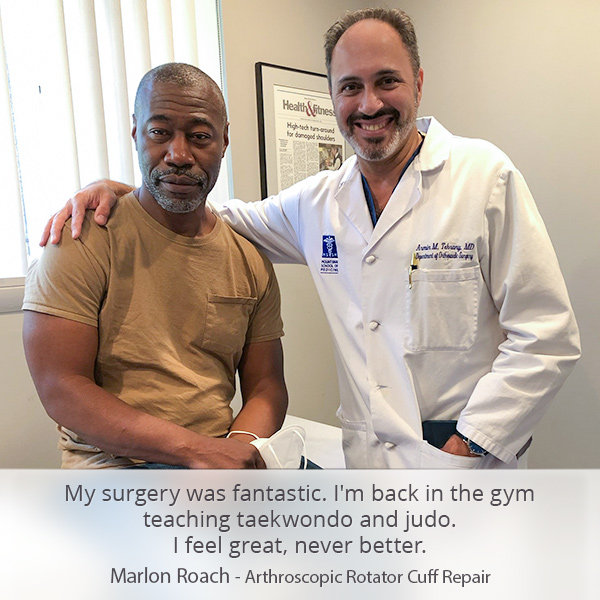 One such person is one of Dr. Tehrany's recent patients, Marlon. As a taekwondo and judo trainer, his shoulder has gone through immense pressure and intense trauma from the variety of motions. His shoulder was causing him many problems, and he wanted to stop his pain, so he booked an appointment with Dr. Tehrany. During the examination,
Dr. Tehrany
carefully listened to his symptoms. Moreover, he examined the shoulder thoroughly, and he knew that a shoulder surgery would help Marlon. The pre-op diagnosis included
right torn rotator cuff SLAP
,
AC arthropathy
, and
impingement
. As an experienced shoulder specialist, Dr. Tehrany recommended proceeding with an
arthroscopic rotator cuff repair
. The primary problem in Marlon's shoulder was the rotator cuff tear. However, Dr. Tehrany discovered other issues that required medical attention. Along with the arthroscopic rotator cuff tear, Dr. Tehrany and his PA, Tim Lopresti, also performed
biceps tenodesis
,
anterior
synovectomy
,
posterior synovectomy
,
debridement
,
subacromial decompression
, and
distal clavicle excision
. The surgery was an absolute success. After the arthroscopic rotator cuff repair, Marlon wore a sling for three weeks. He had a limited range of motions to allow the shoulder thorough and proper healing. He then got through his physical therapy, which has helped his shoulder get back to shape and full strength. During his follow-up appointment at
Manhattan Orthopedic Care
, Marlon has happily shared his gratitude to Dr. Tehrany and his team for the superb care and treatment they provided.
My surgery went fantastic. My healing process and my therapy were great. I'm back in the gym teaching taekwondo and judo and teaching my kids. I feel great. Never better.
This patient was treated at the Staten Island Office.