Dr. Armin Tehrany was included in The Heritage Who's Who
Dr. Armin Tehrany
was the inclusion into The Heritage Registry of Who's Who, a New York based biographical publication, that selects and distinguishes individuals throughout North America who have attained a recognizable degree of success in their field of endeavor and thereby contributing to the growth their industry.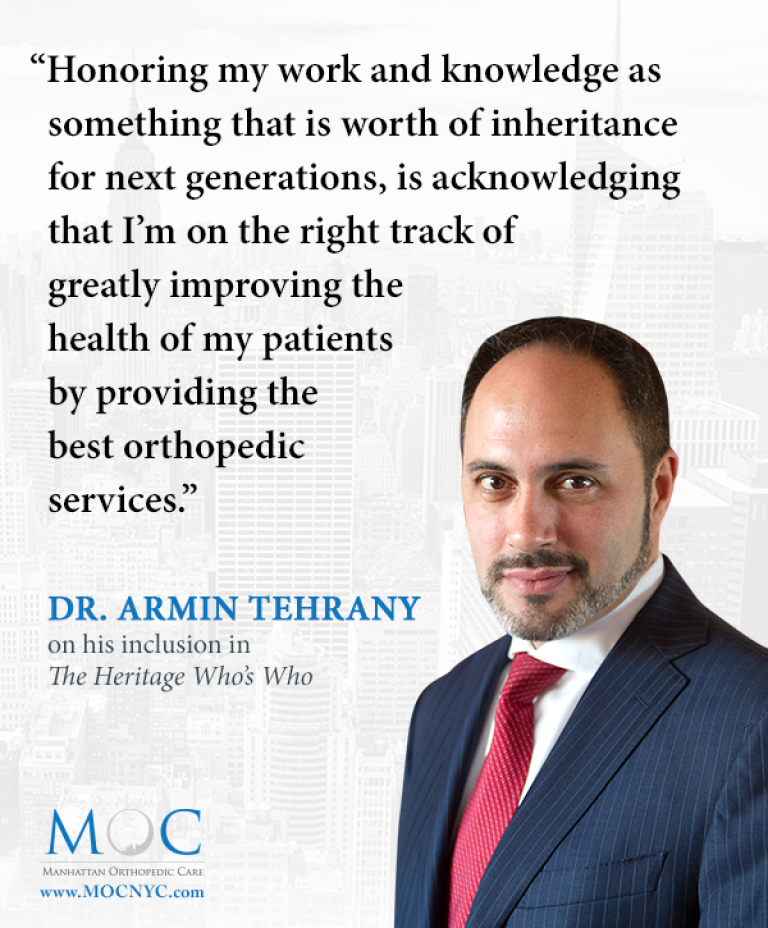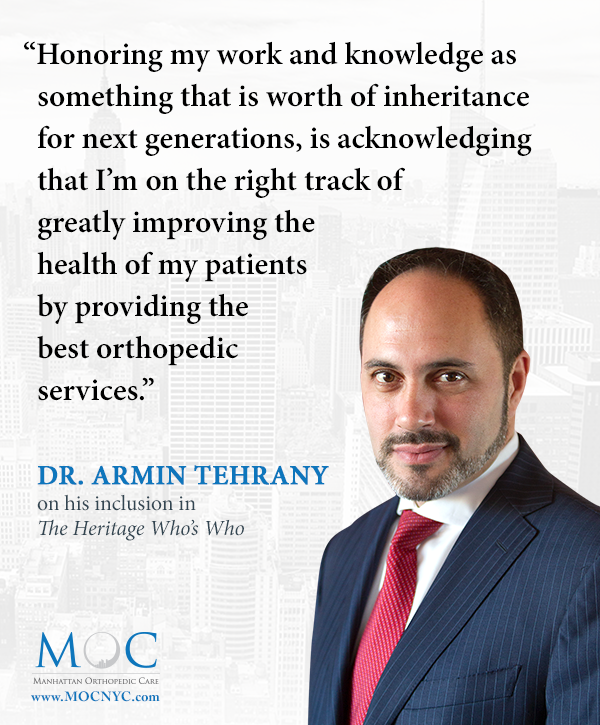 Dr. Tehrany's inclusion in this prominent directory is based on his accomplishments and achievements in the field of
Orthopaedic Healthcare Services
, provided by him and his team at
Manhattan Orthopedic Care
.
"I must say that this has been one of my dearest recognitions. Honoring my work and knowledge as something that is worth of inheritance for next generations, is acknowledging that I'm on the right track of greatly improving the health of my patients by providing the best orthopedic services." says Dr. Tehrany.
The Heritage Who's Who publishes an annual business to business professional directory and honors individuals for their accomplishments in their field of endeavor. The directory features complete biographical profiles of the individuals, highlighting their most significant moments and accomplishments through their career. Along with the printed annual directory, The Heritage Who's Who profiles and publishes the members on their official website, enhancing their exposure and network possibilities. The selection of individuals featured in this directory is based on their present position and achievements, as well as their lifetime of accomplishments. A comprehensive analysis of individuals' profiles is completed to select those who have attained a recognizable degree of success in their industry, business, profession and community. The Heritage Who's Who will continue providing comprehensive reference publication for individuals who are recognizable and distinguishable. Dr. Armin Tehrany's profile on the official website of Heritage Who's Who is available on the following
link
.