Dr. Tehrany advises how to prevent severe injuries in youth sports
injuries in youth sports
is substantial. While occasional bumps and bruises are a common component of each game, in the past few years, severe fractures, painful sprains, and strains have become among the top sports-related injuries, and have sent millions of children in the emergency room.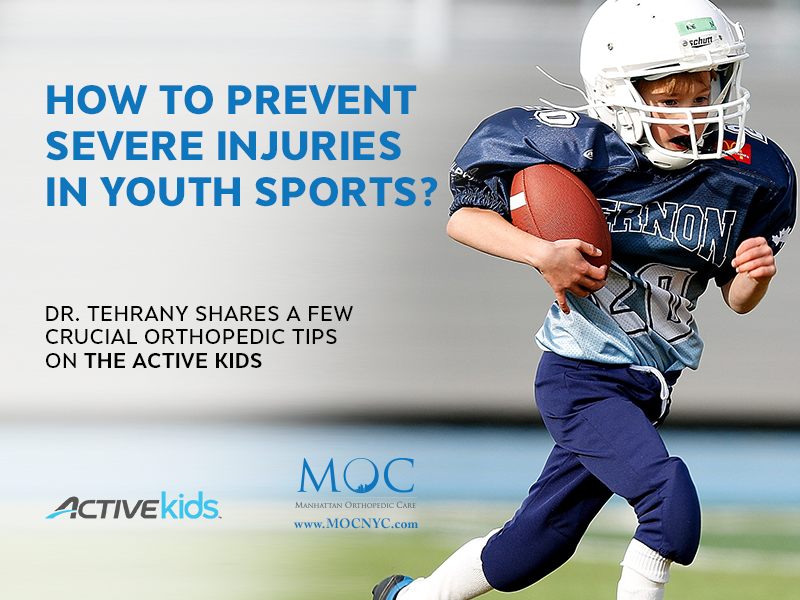 Recent research studies suggest that four in ten children that visit the ER have sustained serious sports-related injuries, and have required urgent orthopedic surgery to address the issues in question. Having this terrifying fact in mind, it is of crucial importance to provide extensive news coverage on the topic of how to avoid severe sports injuries in children. The leading online platform for sports and physical health, The Active Kids, asked Dr. Tehrany to share his orthopedic knowledge in an article that covers prevention of youth sports injuries that require surgery. As an exceptionally caring orthopedic doctor, with a vast experience in the treatment of sports-related injuries in children, Dr. Tehrany happily took the opportunity to share a few crucial orthopedic tips, and help educate children, their parents, and their coaches on how to avoid agonizing injuries in youth sports. According to Dr. Tehrany, the most common sports injury in children is shoulder dislocation, which is especially frequent among young football players. Since shoulder dislocation can severely damage the shoulder and can cause major issues in this joint, Dr. Tehrany highly recommends the prevention method that includes "
a Sulley brace under the jersey to provide additional stability to prevent dislocation
." Another concerning injury, especially among young pitchers, is the SLAP tear.
"A specific shoulder-stretching program that includes 'sleeper stretches' can significantly reduce the likelihood of a SLAP Tear as well as other injuries," explains Dr. Tehrany.
The
meniscus tear
is yet another frequent orthopedic injury among young football and basketball players. As a preventative method, Dr. Tehrany suggests "
proper stretching and strength conditioning that provides balanced musculature
." The fourth and equally worrying injury, is the
ACL Tear
, usually seen in children who participate in intense football practices. According to Dr. Tehrany, "
specific ACL prevention programs that include plyometrics can significantly reduce the incidence of ACL tears.
" The complete article, as well as the recommended treatment options for these injuries in youth sports that require surgery, is available at
ActiveKids.com
.