Dr. Tehrany helps sports enthusiasts protect themselves against summer fitness hazards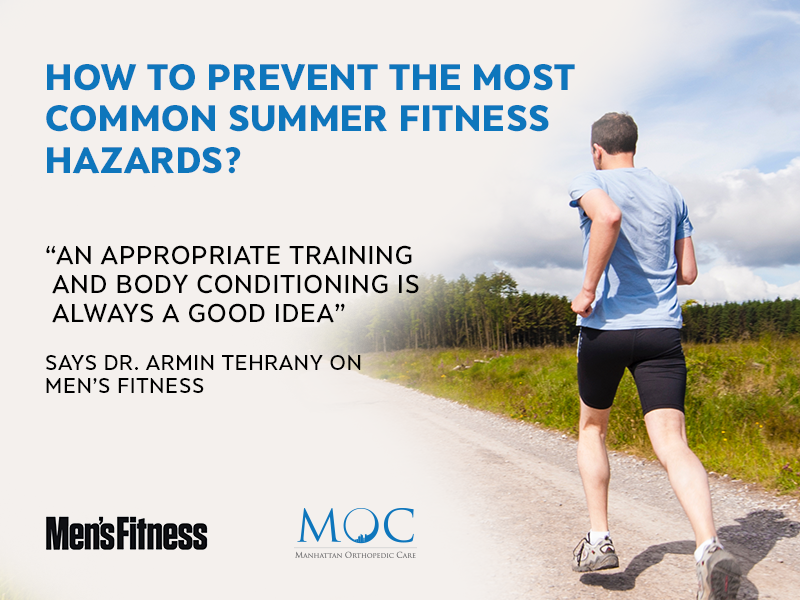 The active-lifestyle brand for body-conscious men,
Men's Fitness
, recently published an article that explores the five most common
summer fitness hazards
. For the purpose of the story, Men's Fitness asked
Dr. Armin Tehrany
to share his orthopedic knowledge, and discuss two highly dangerous hazards of summer exercise: muscle fatigue and sports-related muscle strains. Since the favorable summer weather conditions create an excellent outdoor environment for a variety of sports activities, most sports enthusiasts jump to the opportunity to enjoy a good run, a long hike, or a stress-relieving game of basketball or tennis. But, according to Dr. Tehrany, "
being active for hours
on-end
can cause muscle fatigue and pose a high risk for injuries, especially during the warmest hours of the day
." In order to lower the risk of muscle fatigue, Dr. Tehrany recommends a slow and steady progress of the level of sports activity. Furthermore, the top NY orthopedic doctor emphasizes the importance of giving the muscles enough time to fully adapt to the specific type of exercise. Fitness enthusiasts should also take precautions against sports-related muscle strains, which are an equally harmful summer injury. This painful condition "
occurs when the body isn't properly warmed up, or when the muscles are largely overused and exhausted.
" During summer, people tend to carelessly switch from one sports activity, which they have been practicing for a long time, to a new one, which demands more muscle strength, and a better body shape. This, often unsuitable, switch, causes muscle exhaustion, and requires ample time to recover.
"Because of this, appropriate training and body conditioning before starting is always a good idea. Don't overestimate the power of a warm-up and sleep," recommends Dr. Tehrany.
To read the complete list of summer fitness hazards, please visit
MensFitness.com.