How To Improve The NFL? Dr. Tehrany Attends Sports Medicine and The NFL Conference
Dr. Armin Tehrany
is attending the Sports Medicine and The NFL: The Playbook for 2013 conference held in Boston until May 11.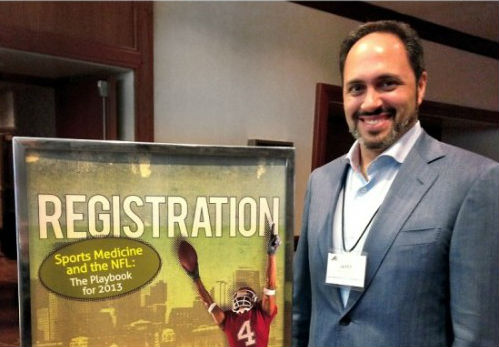 The conference, organized by the American Orthopedic Society of Sports Medicine (AOSSM), National Football League Physicians Society and supported by the NFL, is designed to identify the areas of concern in injury management and help physicians, athletic trainers, and coaches to better integrate prevention strategies with their health care teams to improve the musculoskeletal and medical health for professional, collegiate and youth football players.
"I am currently at the NFL Sports Medicine Meeting. One of the most important reminders just lectured….nutritional supplements are NOT FDA-approved and can be altered or laced with other materials. Also, being deficient in vitamins and minerals is rare in the US, except perhaps in some vegetarians.", Dr. Tehrany said.
The NFL commissioner Roger Goodell and other influential speakers will share their presentation and ideas on improving the NFL game, both in the best medical practices and legal topics for prevention of injuries to the professional athletes.