MOCNYC NBA Injury Watch: Miami's Chalmers continues to fight off Indiana despite his shoulder injury
MOCNYC's NBA Injury Watch
, based on data from NBA.com, analyzes the injury of Mario Chalmers, whose shoulder injury might be a disadvantage for Miami's hopes of reaching the NBA finals. The Miami Heat are determined to reach the finals and defend their title. They lead 2:1 in the series with an excellent performance so far, despite LeBron's Game 2 hiccup.  Getting closer to the finals adds more pressure on teams, they need their best players to perform well, including point guard Mario Chalmers, playing as much as his shoulder injury will allow.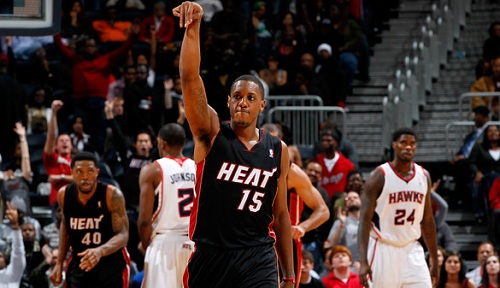 (Image courtesy of ESPN.com)
Chalmers initially injured his shoulder in Game 1, and then aggravated it again in the Game 3 win against Indiana. As an important member of the team, Chalmers will continue to play, although his movements haven't been very pleasant for the shoulder. He is averaging 27 minutes played per game, but the shoulder injury may limit him. His injury status has been set as "Day-to-Day".
"My concern when I see Mario in pain is that he has instability in his shoulder. Carmelo Anthony has instability and a torn labrum and uses a special brace to assist him.  Mario might feel more comfortable with a brace as well. Let's hope it is simply a sprain."  says Dr. Armin Tehrany, assistant clinical professor of orthopedic surgery at the Mount Sinai School of Medicine in New York.
It's impressive that although he's still bothered by the shoulder injury, during Game 3 he performed close to his best.
"After Game 3 Chalmers had the shoulder bandaged again. He shows readiness to play, but definitely what he needs is to give the shoulder a good rest and have a proper treatment. "
Meanwhile, the first finalists San Antonio Spurs can breathe for a while. They booked their ticket to the finals by impressively ousting the Memphis Grizzlies in the Western Conference, setting the score 4:0. With plenty of time to recover from the tiring games, they expect their opponent in the final game.
"They did a great job during this exhausting season. Now it's important to rest well, and revive their energy for the NBA finals. They should take full advantage of this period while they are free and recover their strength." concludes Dr. Armin Tehrany.
Manhattan Orthopedic Care
summarized all the injuries that occurred during last week games in the NBA Injury Watch. In the Injury Watch fans can also find information about all injured players from the NBA Teams and get more information about the recovery time they require.