New York Post: Dr. Tehrany provides an expert opinion on Spencer Dinwiddie's ACL Tear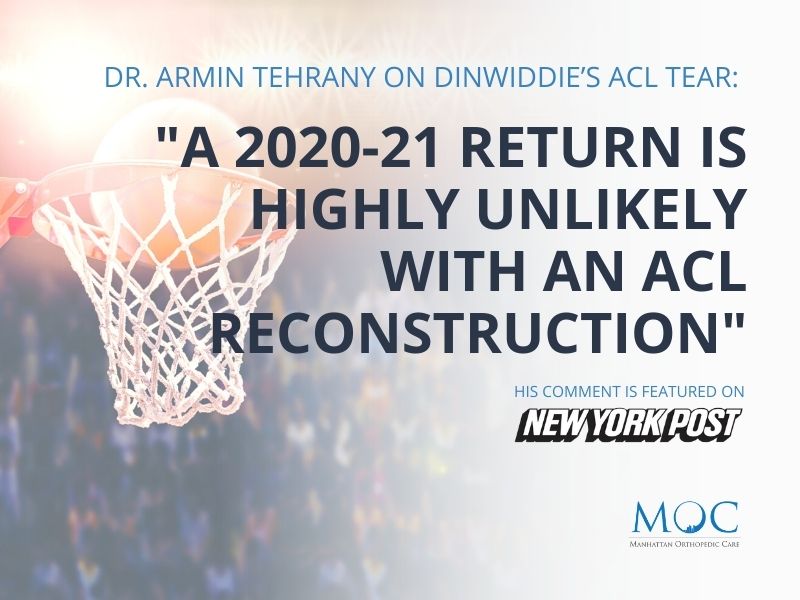 The New York Post covered Dinwiddie's injury and reached to Dr. Tehany for an expert opinion on the
ACL tear
. As an immensely experienced knee surgeon who is happy to share educational information, Dr. Tehrany gladly accepted the opportunity to give insight into what he believes will follow. According to Dr. Tehrany, the injury is almost certainly season-ending, and a 2020-21 return is doubtful if Dinwiddie undergoes an
ACL reconstruction
.
"There are situations where a partial ACL tear could be kept intact and sometimes if it was, say a repair if the ACL is reparable as opposed to a reconstruction. The risk, there is up to a 20 percent failure rate with a repair as opposed to reconstruction," Dr. Tehrany told the New York Post.
While Dinwiddie's knee surgery has been scheduled for next week, there still hasn't been any official information on what type of surgery he will undergo.
"I think we can assume if we haven't heard otherwise that it's going to be a reconstruction because that's the right thing. To me, that's usually what is going to get done in 2020. Repairing an ACL is now an option [but] very unlikely," Dr. Tehrany further explained. "If anything the way to describe expectations for high-level athletes for reconstruction — it'd be better for him to wait 9 or 12 months to get back to a high-functional level than 6-to-9. It's almost 100 percent that it's a season-ending injury," Dr. Tehrany concluded.
In a social media post, Dinwiddie said that the pre-op prognosis is that his surgery should be very simple and straightforward. However, he will need a carefully monitored recovery period because his knee must heal fully and properly. The article covering Dinwiddie's knee injury and featuring Dr. Tehrany's opinion is available on the
New York Post's website
.