Knee-Related Injuries Plaguing the NFL in 2015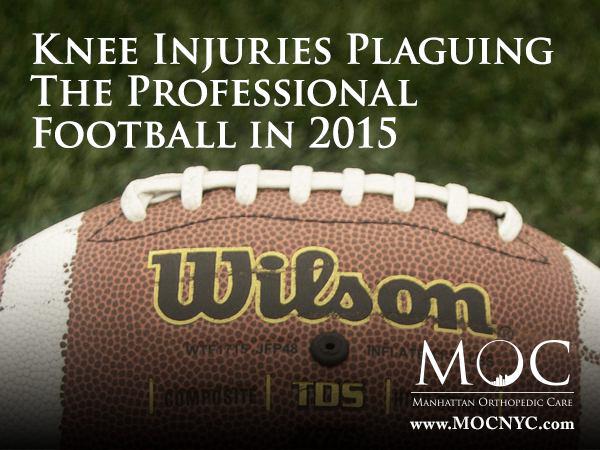 Actually, it's already claimed some twenty-five knees
,
to be precise. Over the preceding month of pre-season action, devastating NFL knee injuries have curtailed the 2015 season for a whopping twenty-five practitioners without as much as a single regular-season snap. To that, league commissioner Roger Goodell must be eliciting a resounding
ouch!
With such career-threatening injuries on the sharp upswing, knee-related mishaps have now become the leading epidemic sweeping across professional football. Therefore, it's obvious why NFL knee injuries, according to a 2013 player poll, have become the number one concern of players and coaches alike, a distinction no longer assigned to the dreaded concussion. These days, it seems that one shift of the meniscus, one faulty quirk of the kneecap is all it takes to bring an entire NFL team, well, to its knees.
Not for Long
It's no surprise that the NFL acronym is often termed
Not For Long
. Of the twenty-five knee injuries plaguing the NFL thus far in 2015, an alarming eleven of them are of the season-ending variety, far more devastating than any other bodily impairment. Of the 78 reported injuries this pre-season, knee injuries rank as the undisputed kingpin, spelling doom for a lofty 32 percent of the league's injury-prone, a wide margin above hamstrings (second at 15 percent) and calves (third at 6 percent).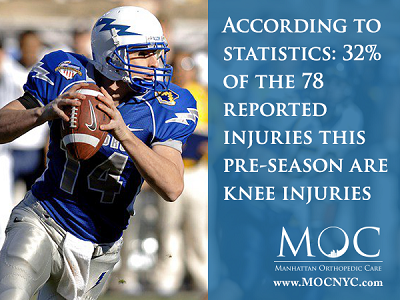 Perhaps no season-ending knee injury has snagged recent headlines like that of Jordy Nelson, the Green Bay Packer All-Pro wide receiver, who tore his ACL without a trace of contact from an opposing player. Nelson's injury proves why the torn ACL is among the most unpredictable of all on-field mishaps, as the shifty, stop-and-go nature of the game applies intense pressure upon knee ligaments. But Nelson is hardly alone. While the Packers recover from such an irreplaceable loss, the New York Jets' defense must fill the void vacated by first-round draft pick Leonard Williams' season-crushing injury, and the Dallas Cowboys need to manage without leading pass defender Orlando Scandrick (also a pre-season torn ACL). Such a gruesome NFL injury hampered the New England Patriots' Super Bowl run in 2013 (sustained by Rob Gronkowski) as well as the Arizona Cardinals' championship aspirations a year later, losing quarterback Carson Palmer for the season to yet another torn ACL.
Knee-Quirk Reactions
Over the span of a decade, from 2002 to 2012, the NFL has averaged 43 ACL-related injuries per season, according to the American College of Sports Medicine. In 2013, the figure spiked to a disturbing 65 ACL inflictions, a paced largely maintained throughout the 2014 season. While the NFL scrambles for a remedy to the torn-ACL epidemic, others question why the number has skyrocketed in recent years. Such theories include:
Lighter, less-intense pre-season training camps aimed at reducing fatigue fail to aptly prepare players for the intense physicality of the pre-season.
Tighter regulations prohibiting helmet-to-helmet contact is forcing defensive players to aim lower – namely, the knees.
NFL players are bigger and stronger than ever before, and knee ligaments can no longer withstand the fierce resistance of such herculean athletes.
Huddling Up with the Best
While the NFL continues its efforts in rectifying the increase of on-field knee injuries, surgeons like the highly-proclaimed
Dr. Armin Tehrany
offer high-quality treatment for such excruciating mishaps. Dr. Tehrany specializes in safe, effective procedures such as
Arthroscopic Chondroplasty
,
ACL Reconstruction
,
Meniscus Repair
, and many more, each one ensuring a swift rehabilitation process with minimal pain levels.