Manhattan Orthopedic Care
we always welcome our patients with a big smile and take care of them like they are our own family.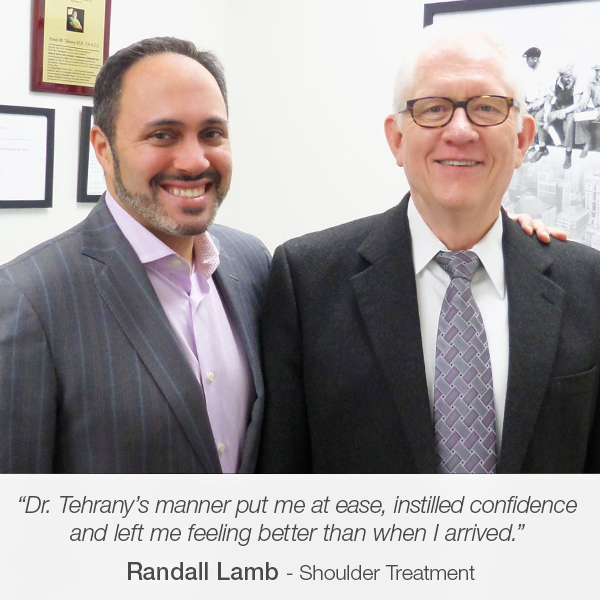 Randall Lamb struggled with a
shoulder soreness
and
shoulder pain
for a long period. But, when he met our orthopedic doctor and shoulder specialist Dr. Armin Tehrany, his painful story turned into a new friendship with Dr. Tehrany.  After one visit and consultation with Dr. Tehrany, he already felt better than when he arrived.
"Dr. Tehrany, First let me thank you for your time this morning. Your manner put me at ease, instilled confidence and left me feeling better than when I arrived. That was, arguably, the best doctor appointment I can remember and I think my medical history will attest to the fact that I have met with many physicians and surgeons in my life. I was very favorably impressed and will be passing my thanks on to Ronald, as well. An unexpected surprise of the best kind," says Mr. Lamb.
Diagnosing the shoulder is not always a simple and easy thing to do, even for an experienced orthopedic doctor. But Dr. Tehrany's knowledge and expertise in shoulder injuries and conditions have enabled him to find the trigger of Randall's exhausting shoulder pain.
"I wanted you to know, just for your information and not because I need you to do anything about it, but having the tendon pop as it did this morning has left me with some residual pain. It is exactly the same pain and in the same location as was when I hurt it before. That is obviously what is causing the problem. I'm actually glad it happened during your exam so you could see firsthand what happens. I seldom get that lucky. Again, thank you for your kind attention. I look forward to working with you in future. Randall Lamb"
Thank you for your trust, Randall! We are looking forward to making you happy and help you feel free again! 🙂
This patient was treated at the Manhattan Office.