Dr. Armin Tehrany and his entire team always go the extra mile to provide the best orthopedic treatment and care for each patient. Last year, Douglas Joseph experienced and felt Dr. Tehrany's and his team's devotion to helping their patients enjoy a pain-free life selflessly.
Douglas was an active person. He regularly visited the gym, lifted weights, and run. His job as a police dog handler was also demanding for him to be physically fit and energized. 
"Dr. Armin Tehrany of Manhattan Orthopedic Care (MOC) repaired both my shoulders, four months apart, in 2020. My shoulders had deteriorated over a period of years. By the time they became unbearable, each needed nearly everything fixed; labrum, rotator cuff, bicep tenodesis, bone spurs, arthritis, etc., souvenirs of decades of weight training and as a police dog handler."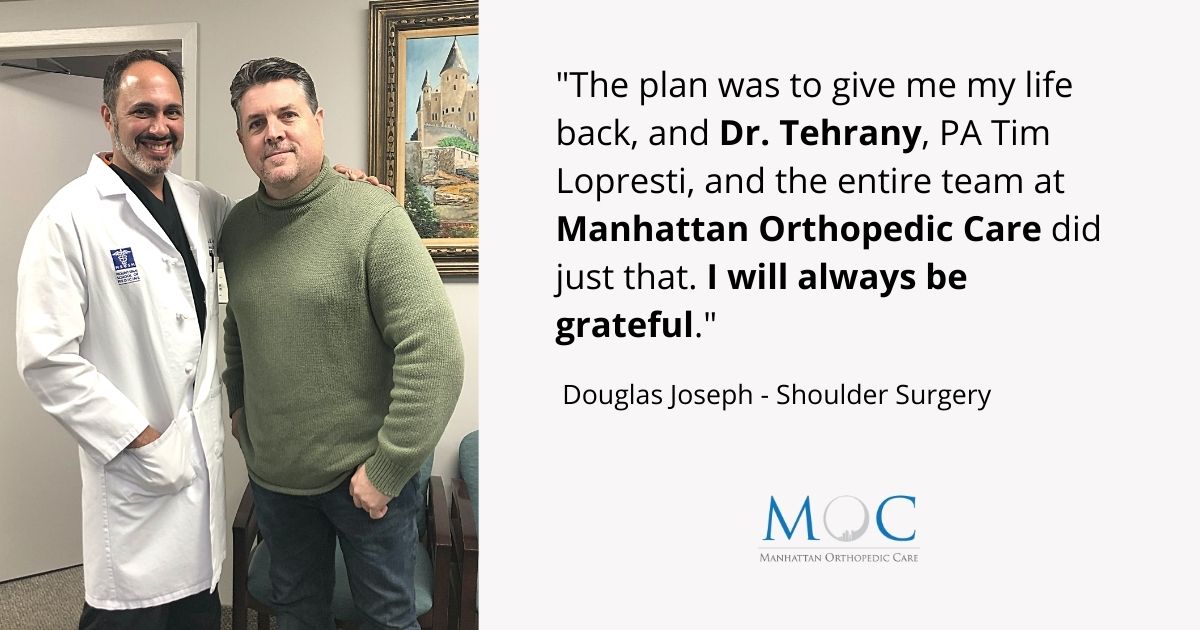 When he started experiencing shoulder pain, he gradually decreased the level of his physical activities. Moreover, he wasn't able to perform even the simplest of movements without pain or discomfort.
"In my late forties, my normal routine of five days of running or lifting in the gym became four, then two, then none. Training with the dogs, my job and passion, became an ordeal to be endured. My sleep was affected. I had constant pain, even at rest."
Fortunately, Douglas found Dr. Tehrany, one of the top New York shoulder specialists. He immediately scheduled an appointment and was pleased with Dr. Tehrany's professionalism, knowledge, and friendliness. After Douglas discussed his shoulder condition with Dr. Tehrany, he understood that Dr. Tehrany is a person he can fully trust to proceed with the shoulder surgery.
"I was referred to Dr. Tehrany by my regular doctor and soon discovered that he is especially supportive of first responders. As I contemplated surgery, I heard from the usual doomsayers: "Don't do it!" "You'll never be right!" "I know a guy who…" I am so glad that I didn't listen to them. The doctor's reputation, his philosophy, and his people gave me the confidence to move forward."
The examination of Douglas's right shoulder revealed several different issues that required treatment. After careful consideration, Dr. Tehrany recommended a shoulder surgery that would enable him to address all issues at once. Together with his team, Dr. Tehrany made the entire surgical process a light breeze for Douglas.
"Their plan wasn't just to relieve my pain. It was to give me back full function, the ability to get strong again and to do all the things I like to do. I visited the Staten Island office. The staff there was always great. They made scheduling the surgeries a breeze. Billing was never a problem, and MOC accepted my insurance without issue.

"The office personnel was friendly and responsive. Appointments were always timely. Dr. Tehrany's medical team is exceptional. He, along with his surgical PAs and anesthesiologist, practice as a unit to ensure consistency and high standards. Of special note is Physician Associate Tim Lopresti. Tim became my go-to guy, always available and happy to answer my questions, and follow my progress."
The shoulder surgery was successful. Douglas had no pain or swelling after the surgery, which was a sign that he was on the right path to full recovery. A few days later, Dr. Tehrany prepared Douglas for the next step – physical therapy. He recommended a facility that he fully trusts, which only increased Douglas's confidence level in Dr. Tehrany for the next shoulder surgery.
"Both surgeries were performed at surgical centers in Manhattan. The care I received at each was top-notch, compassionate, and efficient. The toughest part was three weeks in an immobilizing sling after each surgery. That seems to be universally agreed among shoulder surgery patients. Through it all, I never needed any post-operative pain medication."

Of course, MOC checked on me and made sure that I was comfortable. Dr. Tehrany's post-surgical strategy is to get you into physical therapy almost immediately, within just a few days. His office recommended a PT provider, and they were terrific. As a result, only four months after the surgery on my right shoulder, I was ready to fix the left."

The first experience naturally left me better prepared for the second. Once again, the surgery was completely successful. I went right back to physical therapy. As before, the MOC office staff handled the billing and administration without a hitch. Tim Lopresti stuck by me throughout my rehab."
We are thrilled to see Douglas getting back to his regular activities with a smile. His well-being and happiness give us the strength and motivation to continue providing the best orthopedic care in the world to all of our patients.
"The plan was to give me my life back, and Dr. Armin Tehrany, PA Tim Lopresti, and the entire team at Manhattan Orthopedic Care did just that. I will always be grateful."
This patient was treated at the Staten Island Office.