shoulder surgery
,
Dr. Armin Tehrany
and Manhattan Orthopedic Care's staff were committed to providing the best personal care to Neil Filipowicz.   Mr. Filipowicz suffered a 
shoulder injury
 and needed to postpone the shoulder surgery because hurricane Sandy led to the death of two his family members. Dr. Tehrany contacted Neil and offered his sympathies and supported him through the process.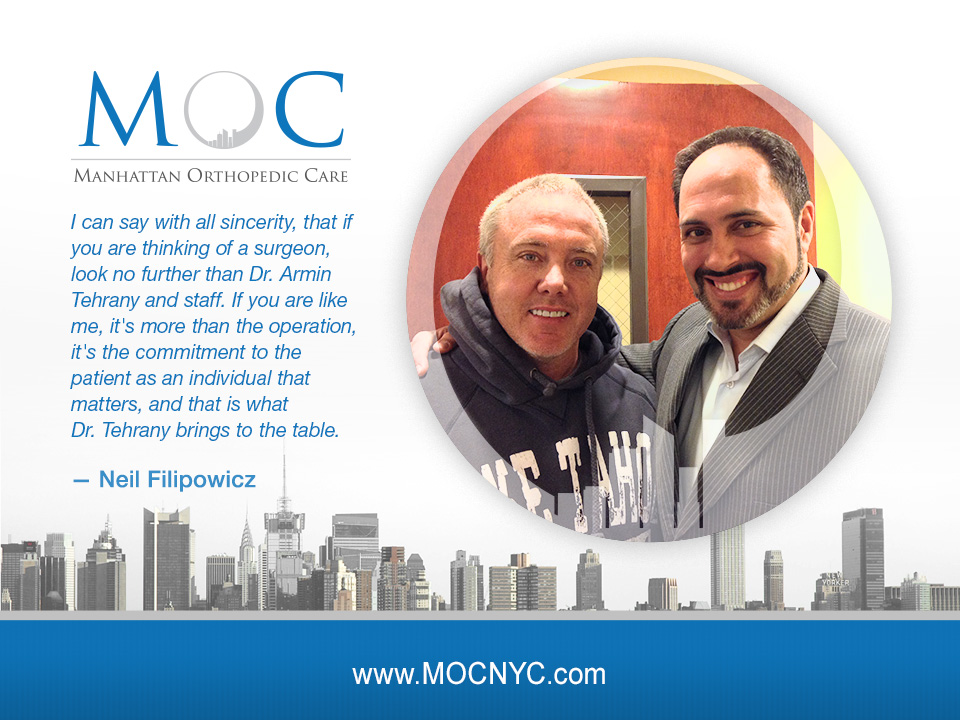 "I normally never get involved in writing reviews but I feel compelled to do so in regards to Dr. Armin Tehrany. I became a patient of Dr. Tehrany in September of 2012 for multiple injuries to my shoulder. We scheduled a total repair in November 2012. A tragic accident happened in October 2012 during hurricane Sandy, my brother and nephew were killed in the storm and upon hearing of this I was contacted by Dr. Armin Tehrany directly who was very comforting in my decision whether to go through the shoulder  surgery. My decision was to go ahead with the surgery and to say I was treated with kid gloves is an understatement."
With care and understanding through the shoulder surgery
For Mr. Filipowicz, one of the most important aspects of the procedure was being treated with care and understanding, and, in his words, "Dr. Armin Tehrany delivered the commitment to the patient as an individual that matters".
"From prep to post op and recovery and rehab Dr. Tehrany and staff were not only professional but caring every step of the way. I can say with all sincerity that if you are thinking of a surgeon, look no further than Dr. Armin Tehrany and staff. You see if you are like me, it's more than the operation, it's the commitment to the patient as an individual that matters and that is what Dr. Tehrany brings to the table.", wrote Neil Filipowicz in his patient testimonials.
This patient was treated at the Staten Island Office.