Manhattan Orthopedic Care
's
orthopedic doctors
 and staff give their best to each and every patient, then look no further then the
testimonials
, like this
shoulder surgery testimonial
, from our thoughtful patients.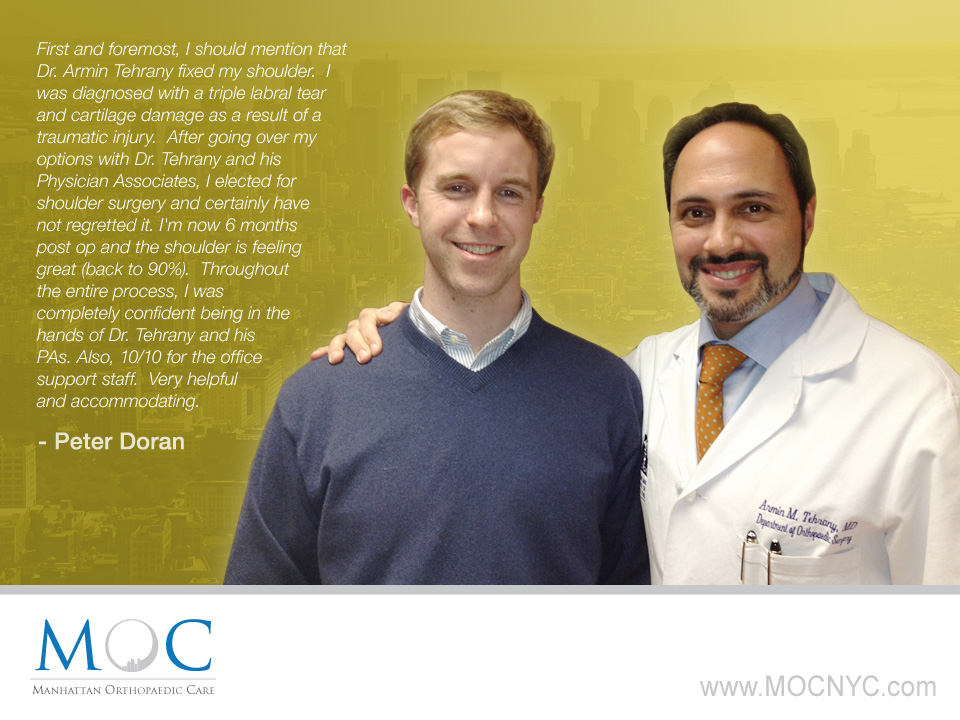 Manhattan Orthopedic Care couldn't be more proud to have grateful patients whose praises continue to inspire our physicians and staff.
"First and foremost, I should mention that Dr. Armin Tehrany fixed my shoulder. I was diagnosed with a triple labral tear and cartilage damage as a result of a traumatic shoulder injury. After going over my options with Dr. Tehrany and his Orthopedic Physician Associates, I elected for shoulder surgery and certainly have not regretted it. I'm now 6 months post op and the shoulder is feeling great (back to 90%). Throughout the entire process, I was completely confident being in the hands of Dr. Tehrany and his PAs. Also, 10/10 for the office support staff. Very helpful and accommodating." ~ Peter Doran.
Thank you, Mr. Doran, for your compliment!
This patient was treated at the Manhattan Office.