shoulder injury
. Until he came to
Manhattan Orthopedic Care
where we gave our best to improve his shoulder condition. He was a great patient, said
Dr. Armin Tehrany
, and I thank him for this wonderful testimonial.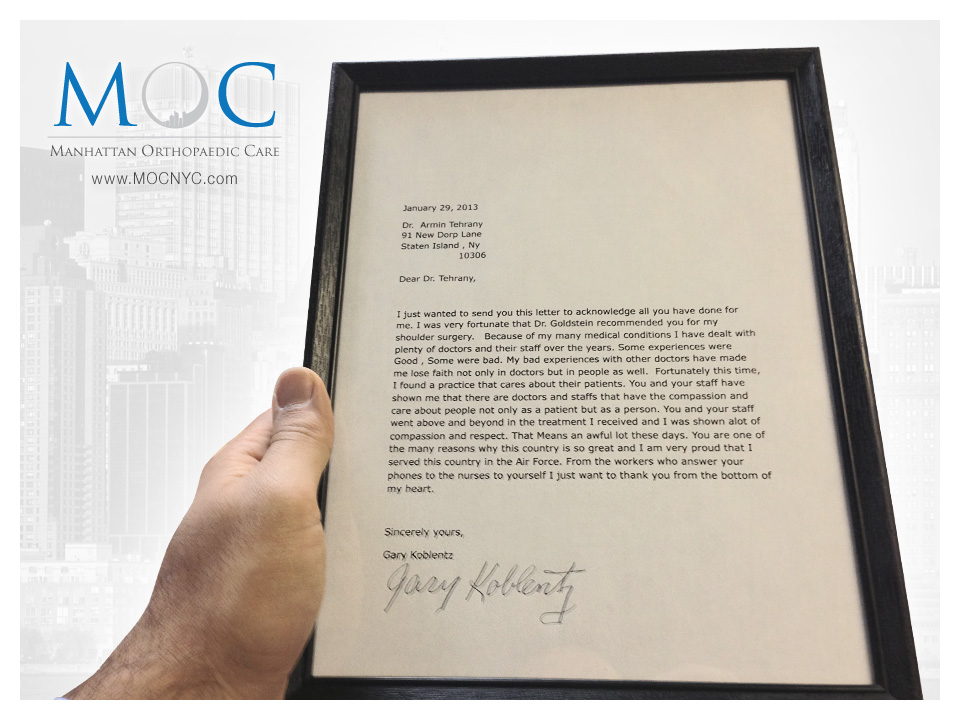 "Dear Dr. Tehrany, I just wanted to send you this letter to acknowledge all you have done for me. I was very fortunate that Dr. Goldstein recommended you for my shoulder surgery. Because of my many medical conditions I have dealt with plenty of doctors and their staff over the years. Some experiences were good, some were bad. My bad experiences with other doctors have made me lose faith not only in doctors but in people as well.", writes Mr. Koblentz in his testimonial to MOC. "Fortunately this time, I found a practice that cares about their patients. You and your staff have shown me that there are doctors and staffs that have the compassion and care about people not only as a patient but as a person. You and your staff went above and beyond in the treatment I received and I was shown a lot of compassion and respect. That means an awful lot these days. You are one of the many reasons why this country is so great and I am very proud that I served this country in the Air Force. From the workers who answer your phones to the nurses to yourself I just want to thank you from the bottom of my heart."
Thank you, Mr. Koblentz, for your kind words in your patient testimonial 🙂
This patient was treated at the Staten Island Office.