torn labrum
, he was in awful pain, fearing that he will not recover in time for his wedding.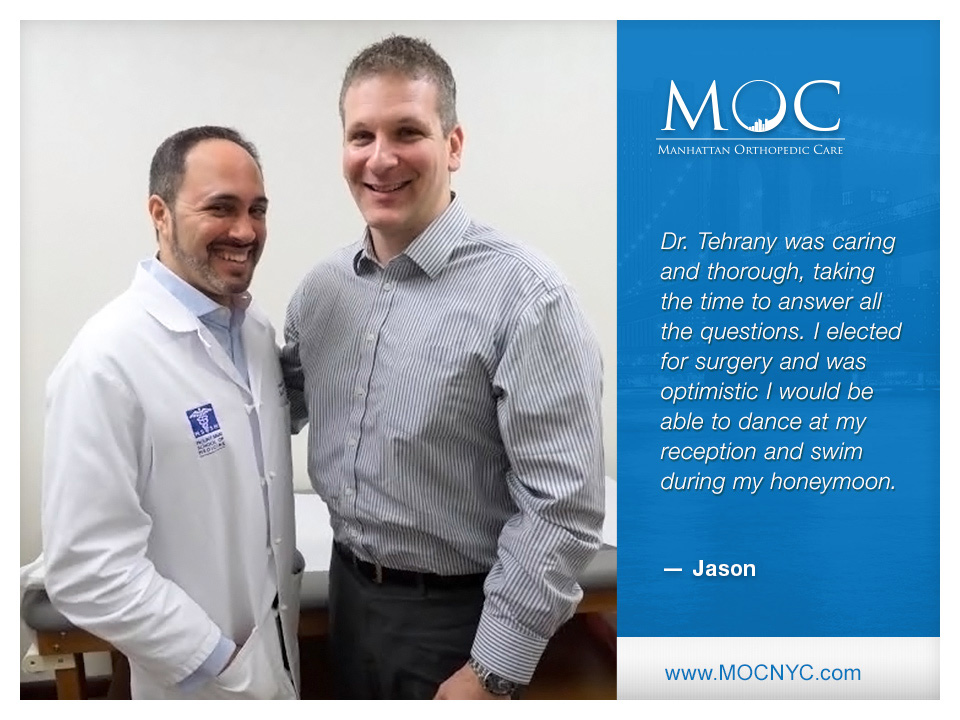 After Dr. Tehrany met with Jason, he diagnosed him with a torn labrum and Jason was scheduled for a
torn labrum arthroscopy
right away. When we found out that this is Jason's second
shoulder arthroscopy
, we put all of our efforts into making his stay at the surgery center comfortable, easy and painless. We understand the stress that one surgery puts on a person, and Jason was going through that terrifying experience for the second time.
"I had my 1st arthroscopy for a torn labrum (right shoulder) about 12 years ago. When I learned I required the same procedure on my left shoulder I had anxiety and stress, as my wedding was only 9 months away. I knew Dr. Armin Tehrany was highly recommended from the circles in which my prior surgeon and physical therapists were affiliated. Dr. Tehrany was caring and thorough, taking the time to answer all the questions I had about the severity and specifics of my particular tear, potential treatment, and surgical options and what the rehabilitation timeline looked like."
From a torn labrum to a wedding dance
We can say that we were inspired for this
shoulder surgery
a little bit more than usual. This
shoulder injury
was making it hard for the very sweet couple to start their never-ending love story with the first wedding dance they always dreamed of. That gave us the energy to make sure they dance their wedding night away.
"I elected for surgery and was optimistic I would be able to dance at my reception and swim during my honeymoon. The surgery itself went well and everyone at SurgiCare of Manhattan tried to make sure I was as comfortable as I could be. The facility was much more pleasant than a typical hospital outpatient procedure to boot."
So, we pushed Jason harder, yet gently, and made sure that he started his physical therapy as soon as he was ready for it.
"With Dr. Tehrany's aggressive physical therapy protocol, I was at physical therapy just 3 days afterwords. I regained full range of motion within 6-8 weeks time, and with limited build-up of scar tissue along the way. I have to admit, the rehab was much easier this time around – specifically less pain and a quicker recovery timeline. I am still in the strengthening phase of PT as I write this, but with greater flexibility in my left shoulder than even my right at this point, and well on my way to normal function. I would not hesitate recommending a consultation with Dr. Armin Tehrany for any shoulder complications."
Knowing that Jason is happy and free from pain, is the most inspiring feeling for us. Thank you, Jason, for your kind words and for choosing and trusting our orthopedic team.