Dr. Tehrany
and the staff at
Manhattan Orthopedic Care
have helped Mr. Accurso to overcome his doubt in doctors. He let Dr. Tehrany perform a
shoulder surgery
due to his
shoulder injury
. His pain is now gone and he feels energized again.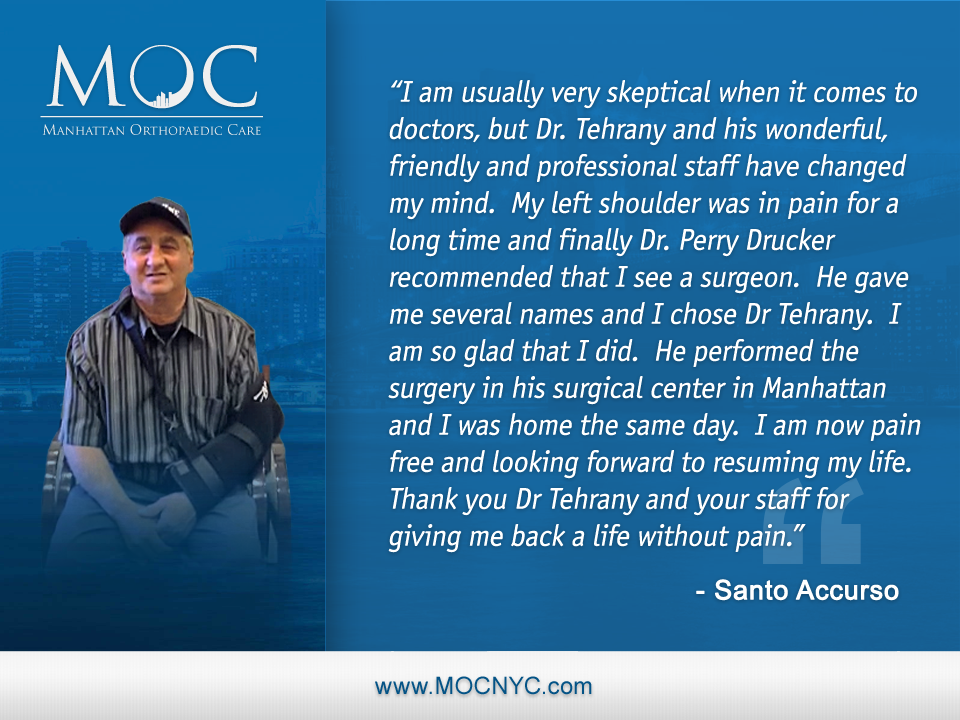 We are thankful for his honest testimonial and we are glad that we have helped him to overcome the pain in his shoulder, as well as his skepticism.
"I am usually very skeptical when it comes to doctors, but Dr. Armin Tehrany and his wonderful, friendly and professional staff have changed my mind. My left shoulder was in pain for a long time and Dr. Perry Drucker recommended that I see a surgeon. He gave me several names and I chose Dr. Armin Tehrany. I am so glad I did! He performed the shoulder surgery in his surgical center in Manhattan and I was home the same day. I am now pain free and looking forward to resuming my life. Thank you Dr. Tehrany and your staff for giving me back a life without pain after the shoulder injury.", writes Mr. Accurso.
This patient was treated at the Staten Island Office.