rotator cuff surgery 
patient, had suffered from for a long period of time. He struggled with a
torn rotator cuff
, which made him unable to enjoy his favorite sports and free-time activities.
Manhattan Orthopedic Care's shoulder specialist Dr. Armin Tehrany
wasn't the first orthopedic surgeon Robert went to, but he was the first one to properly diagnose him and perform a successful
rotator cuff surgery
.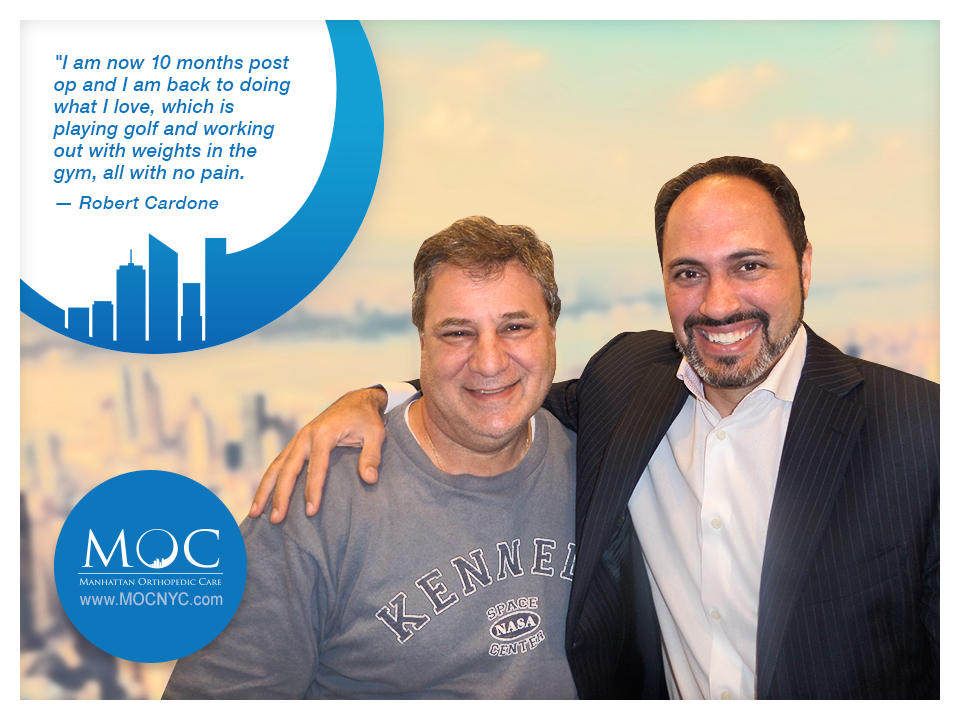 "I went to see Dr. Armin Tehrany because I had a torn rotator cuff and pain in my shoulder constantly. After seeing several Doctors, I walked out of his office knowing that if anyone could fix my shoulder it would be him. From the moment you make the appointment his staff and his PA's put you at ease with their professionalism and friendliness. Every step of the procedure from getting ready for the rotator cuff surgery to exactly what they were going to do was explained and all questions were answered honestly and thoroughly. During the procedure it turned out my shoulder had torn and shredded ligaments and tendons also, and was 'the worst he had ever seen'."
A
shoulder injury
, especially
torn rotator cuff
, can lead to very serious problems. That is why it is extremely important that patients always choose an experienced, board-certified orthopedic surgeon, who will know exactly what needs to be done, and who will provide a superior orthopedic care. Dr. Tehrany and his team of experts provided the utmost
orthopedic care
for Mr. Cardone during his recovery process, and are more than glad to see him back on his feet, energized, and feeling better than ever.
"I am now 10 months post op and am back to doing what I love, which is playing golf and working out with weights in the gym, all with no pain. Having placed myself in Dr. Tehrany's hands was the best decision I made. I have no pain, full motion and thank him every day for returning my quality of life to me.", wrote Mr. Cardone in his patient testimonial.
Thank you, Mr. Cardone, for choosing our practice for your
rotator cuff surgery
and giving us an opportunity to return the quality of your life to you.
This patient was treated at the Staten Island Office.