Experienced, skilled and knowledgeable shoulder specialist, Dr. Armin Tehrany built his reputation as one of the most sought-after orthopedic doctors in New York for both severe and mild shoulder injuries and conditions.
Manhattan Orthopedic Care put patient care and friendly bedside manner at the top of the list, working hard to make patients comfortable. Patients are always expressing how moved they are by Dr. Armin Tehrany's professionalism and always take the chance to recommend him and his team.
Steve Altini visited Manhattan Orthopedic Care, referred by his mother, had a successful shoulder repair surgery at Manhattan Orthopedic Care, performed by Dr. Armin Tehrany.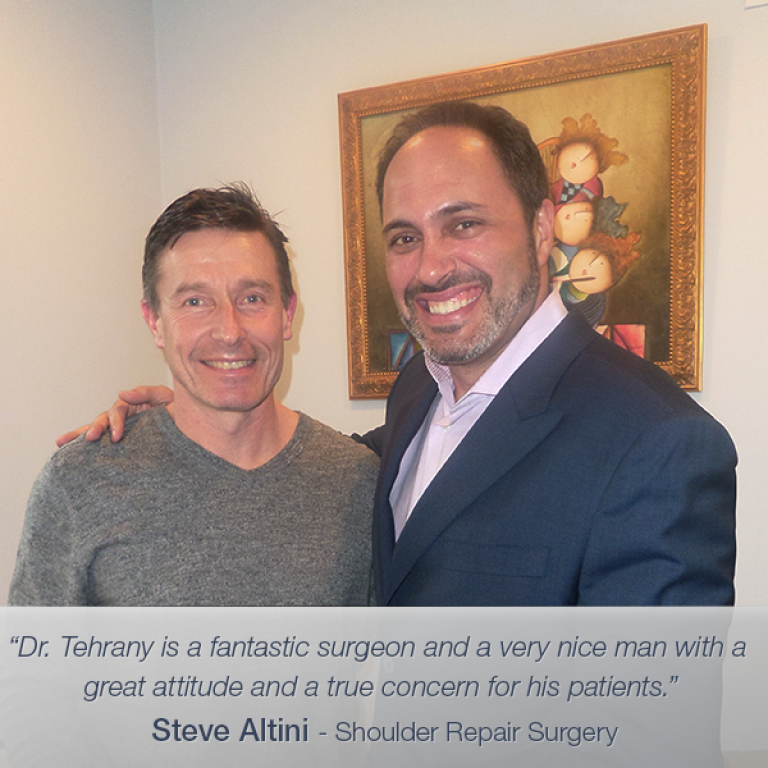 After Dr. Tehrany performed the shoulder repair surgery, Steve began with his recovery and rehab, which strengthened Steve's shoulder enough to continue with the modified weight training within six months.
Unfortunately, Steve required a shoulder repair to his other shoulder. Considering the success with his first shoulder surgery, Steve had no doubt that Dr. Tehrany will carry out the second surgery too.
As a result of Dr. Tehrany's remarkable work, Steve enjoys his sports activities with no pain, and with full shoulder mobility. Thrilled with the experience at Manhattan Orthopedic Care, Steve shared a wonderful review on Yelp, recommending Dr. Tehrany and the team, and portraying Dr. Tehrany as "not only a fantastic surgeon but a man with a great attitude and a true concern for his patients."
"I was referred to Dr. Tehrany by a very protective mother of my son's friend. Her son needed a shoulder repair and she had Dr. Tehrany do the surgery, which was a success. I felt very comfortable with the doctor and his staff when I had my initial visit. I had quite a bit of repair work that needed to be done and my surgery was pretty involved. Dr. Tehrany handled the repair work with incredible skill and my rehabilitation was a huge success due to this. I followed his recommendations concerning the rehab and went back to the gym doing modified weight training within 6 months. I had to have my other shoulder repaired about a year and a half after the first one and I went right back to Dr. Tehrany for that. Of course, it was another successful repair and I again did the recommended rehab with full use of my shoulders without any pain. I cannot say enough good things about Dr. Tehrany and his staff. I would recommend Dr. Tehrany 100% to anyone who needs their shoulder repaired. He is not only a fantastic surgeon, but a very nice man with a great attitude and a true concern for his patients."