Manhattan Orthopedic Care
. After his car accident he suffered a painful
shoulder injury
and needed
shoulder surgery
, which was performed in a refined manner, for which
Dr. Armin Tehrany
is widely recognized as a
top shoulder doctor in NYC
.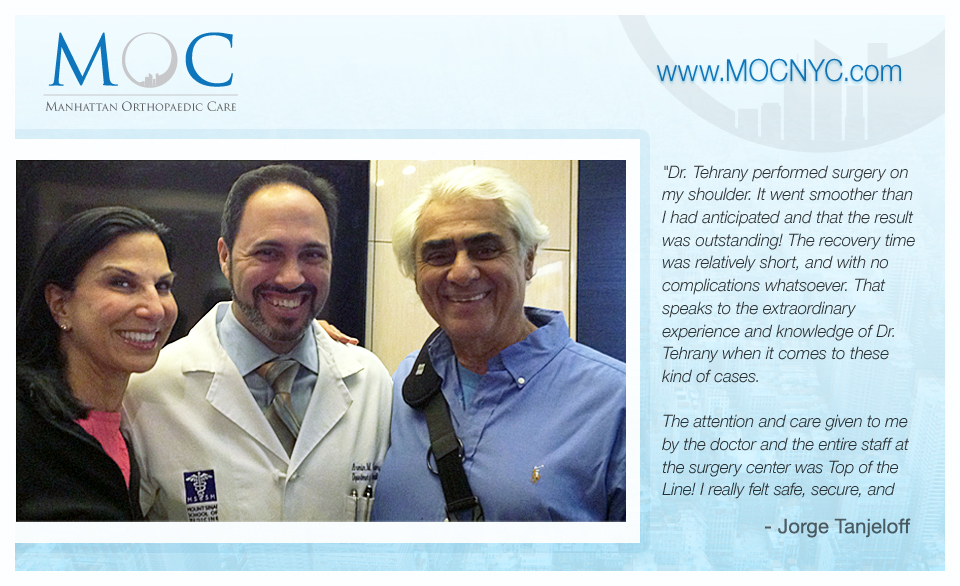 We gave our best to soothe his pain and make his recovery as smooth as possible and now we are blissfully satisfied to hear that he feels like he has a new shoulder.
"Dr. Tehrany performed surgery on my shoulder. It went smoother than I had anticipated and that the result was outstanding! The recovery time was relatively short, and with no complications whatsoever. That speaks to the extraordinary experience and knowledge of Dr. Tehrany when it comes to these kind of cases.", Mr. Tanjeloff wrote. "The attention and care given to me by the doctor and the entire staff at the surgery center was Top of the Line! I really felt safe, secure, and personally cared about in the hands of Dr. Tehrany. Thank you Dr. Tehrany for an outstanding job and for having my shoulder repaired in such a wonderful manner!"
Thank you, Mr. Jorge Tanjeloff, for this kind words.
This patient was treated at the Manhattan Office.