Manhattan Orthopedic Care
for his initial appointment with Dr. Tehrany, Richard felt relieved as he immediately recognized Dr. Tehrany's professionalism and expertise.
Dr. Armin Tehrany
and his team performed a thorough examination of Richard's shoulder. They discovered that he had a partial
rotator cuff tear
, AC derangement, and
SLAP tear
. Since Richard has been physically active all of his life, his shoulder had born immense pressure, which resulted in several shoulder injuries. Due to the injuries, Richard had problems with straightening up his arm and moving the shoulder. As an experienced shoulder specialist, Dr. Tehrany knew that shoulder surgery would provide long-term health benefits for Richard. Moreover, he planned to address several of Richard's issues during one surgery. The surgery was super successful. With the help of PA Tim Lopresti, Dr. Tehrany performed arthroscopic biceps tenodesis, debridement of partial cuff tear, SLAP, and CPPD, subacromial decompression, and distal clavicle excision. During his recent follow-up appointment, Richard cordially shared his gratitude and happiness for the treatment he received. Moreover, he joyfully said that the shoulder Dr. Tehrany operated on felt much better than the other one. As Dr. Tehrany said, his words of appraisal were music to our ears.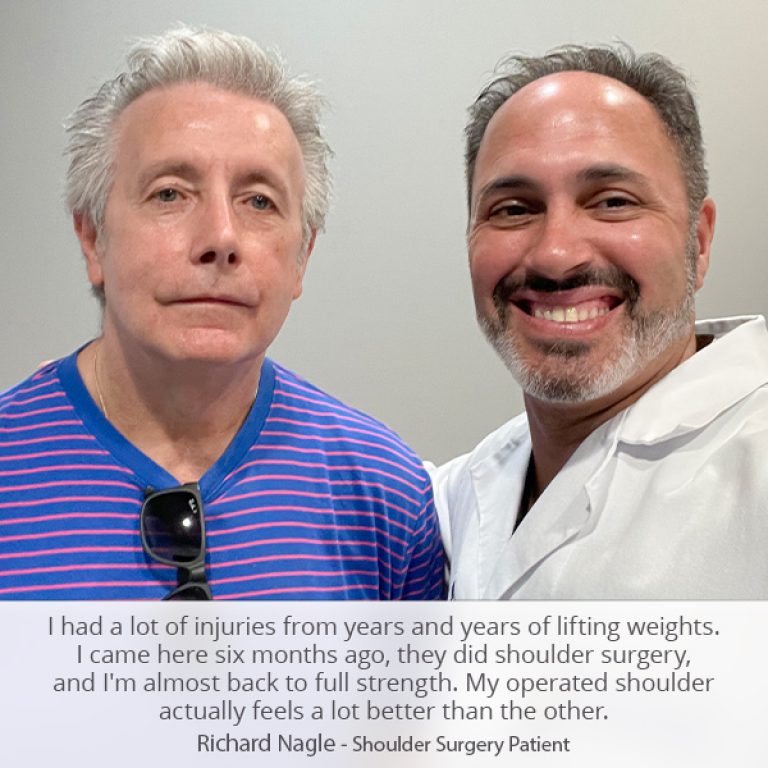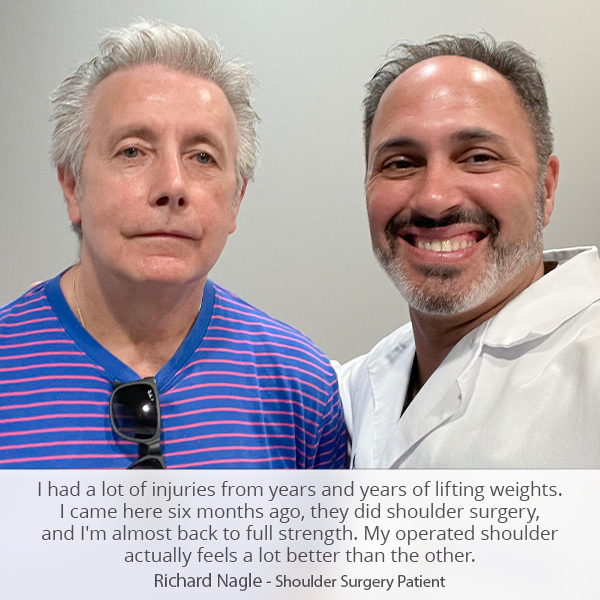 "When I heard that, that's music to my ears. That's what I live for, to have a patient that is so happy and they feel that the shoulder that is operated on is better than the other one," said Dr. Tehrany.
"I really appreciate what Dr. Tehrany and the staff here did. The job they do is fantastic. For many years, I couldn't straighten up my left shoulder. I had a lot of injuries from years and years of lifting weights," said Richard in his video testimonial.
"I came here six months ago. They did the operation and I'm almost back to full strength. Both arms have a nice balance, there are no issues at all. My left shoulder that was operated on actually feels better than the right shoulder that wasn't, and that shoulder feels great. I want to thank Dr. Tehrany, the staff, and everybody here at the institute."