ACL Tear Surgery Leaves Falcao In Doubt For The World Cup In Brazil
Radamel Falcao found out that soccer can be a cruel mistress. In the past year, the Colombian star hit top-form, contributing to his transfer to the sunny Monaco, despite being sought after from all the top European clubs. But, it only took one second, and a bad tackle to destroy his dream of leading Columbia at the World Cup in Brazil.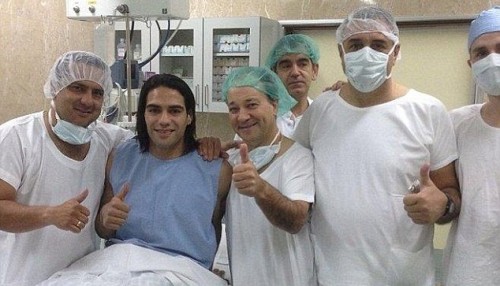 (Image courtesy of Falcao/Instagram)
Falcao was playing lower league opposition, when an opponent rushed with the tackle and consequently ruptured Falcaos' anterior cruciate ligament in his left knee. Falcao, 27, has undergone ACL tear surgery, with a projected recovery of six and more months, which is unfortunate for the soccer star who might miss the trip to Brazil. But, the 27-year old Colombian has noted on his Facebook page that he will not give up on his World Cup dream.
Dr. Armin Tehrany, Manhattan Orthopedic Care's orthopedic knee specialist, says that ACL tears are common in soccer, and although some may not be avoided on the field, many ACL tears can be prevented with a specific program, including an ACL tear surgery.
"Soccer is one of the most common causes of ACL tears requiring arthroscopic knee surgery. For prevention, I recommend a sport-specific training program with physical therapists and trainers including plyometrics", Dr. Tehrany said.