Dr. Armin Tehrany is recognized as Castle Connolly's Top Regional Doctor for the second year in a row
Dr. Tehrany
has been recognized and acknowledged as Castle Connolly's Top Regional Doctor.  Our leading orthopedic surgeon and one of the best New York orthopedic doctors has been included once again in the highly selective list of Castle Connolly Regional Top Doctors® at
https://www.castleconnolly.com/
.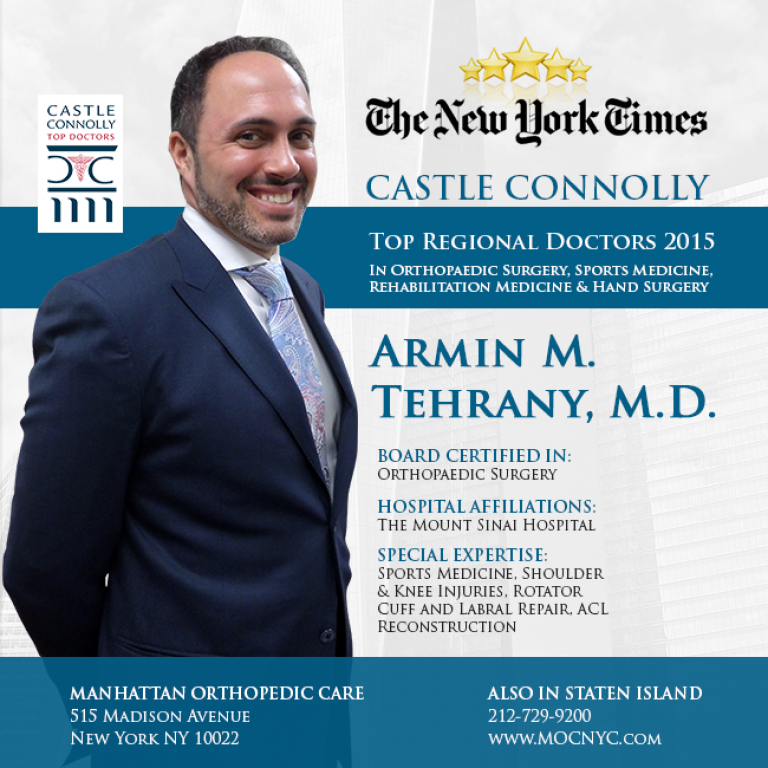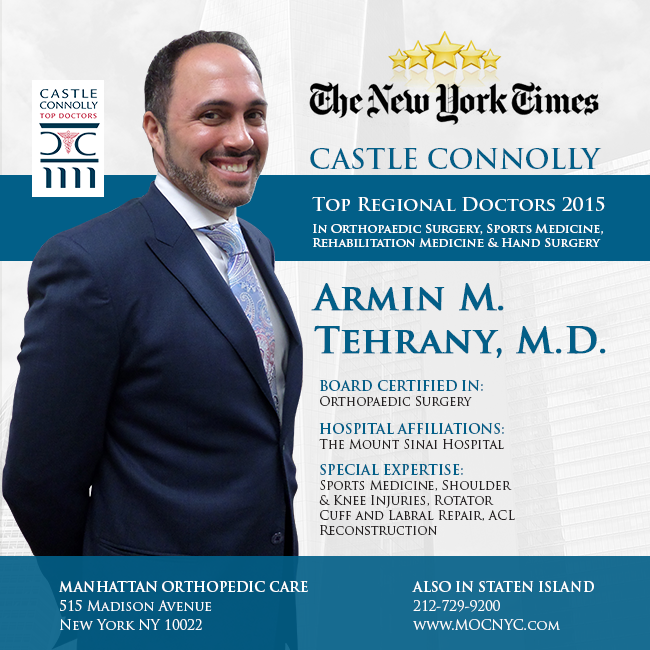 "I'm thrilled to be among the most respected doctors in my field. Knowing that this acknowledgment comes from my colleagues, whose work I respect very much, is the greatest motivation to  devote my career to making a difference in the field of orthopedic surgery and orthopedic care. I receive this award for a second time and I can only say that I am humbled." says Dr. Tehrany.
Last year Dr. Tehrany received his first acknowledgment. The vast experience in treating all types of orthopedic conditions and his expertise in providing the best results for his patients placed Dr. Tehrany among the most respected physician leaders in the New York metropolitan area and community once again. All physicians included in Castle Connolly's list of Regional Top Doctors are selected based on extensive surveys of physicians nationwide and undergo a thorough review of credentials by Castle Connolly's physician-led research team. All doctors are selected only on their colleagues' recommendation, which makes this acknowledgment for Dr. Armin Tehrany even more special to him.
You can find more information about the selection process
here
.
About Castle Connolly
Castle Connolly Medical Ltd. is America's original, authentic and most trusted source for identifying Top Doctors. Their mission is to help consumers find the best healthcare which is the reason they work on publishing variety of books including the "Top Doctors" series, the most popular of which is America's Top Doctors®. America's Top Doctors features the list of the Regional and National Top Doctors who are selected for inclusion. This list features the very best doctors in their specialties and their communities. For more information please visit
www.castleconnolly.com
.