Dr. Armin Tehrany Recognized As New York City Top Doctor In Orthopedic Surgery By Super Doctors
Dr. Armin Tehrany
has been recognized as a 
Top Doctor
in orthopedic surgery by
Super Doctors
.  This acknowledgment is a result of Dr. Tehrany's dedication to providing superior orthopedic care to all of his patients. Once again Manhattan Orthopedic Care is proud to say that we deliver cutting-edge patient care, tailored to the individual needs of each and every patient.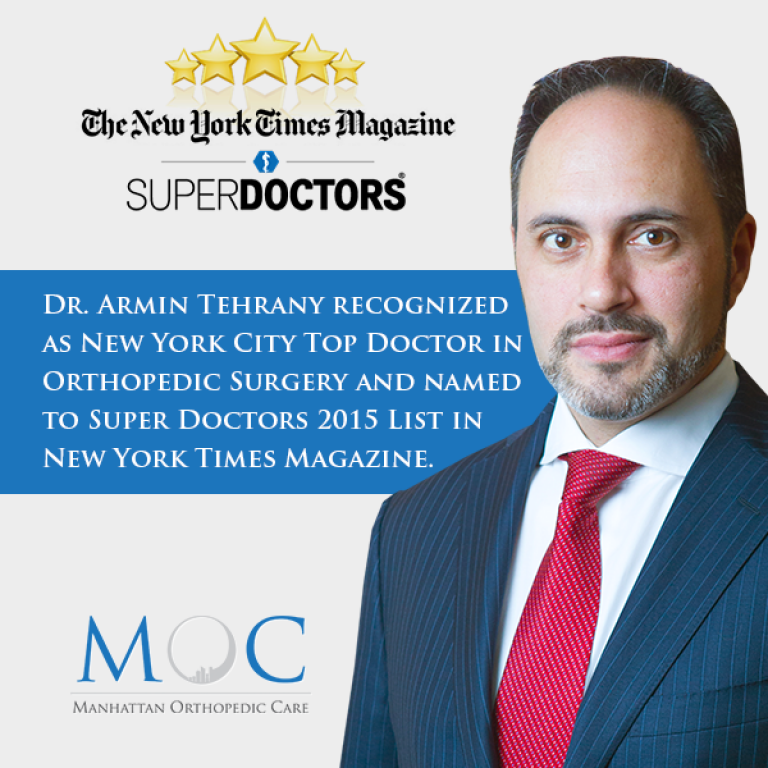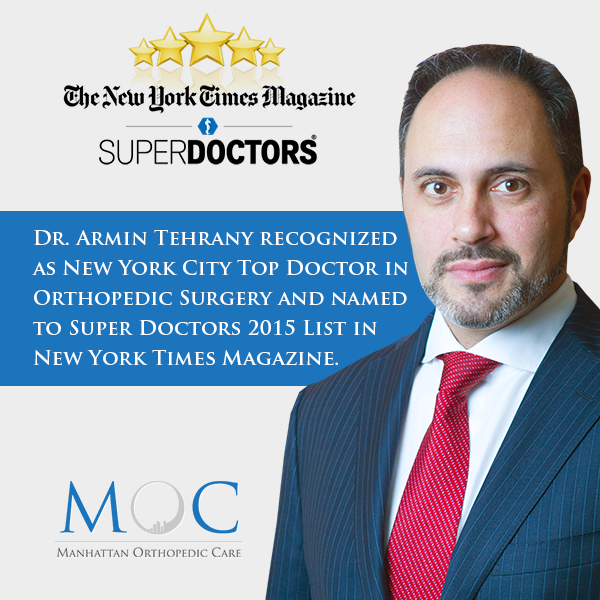 "I'm truly grateful to be selected among Top Doctors, especially when the nomination and the selections come from my dear colleagues, whose work is highly respected not just by me, but the whole staff at Manhattan Orthopedic Care. To be nominated and voted by some of my peers, whose knowledge has helped me grow in the field of orthopedics, is one of the most honorable recognition I have received." says. Dr. Tehrany.
This is the first time that Dr. Tehrany is named to the Super Doctors list for New York Metropolitan Area. As a Top Doctor, Dr. Tehrany is featured in a special
New York Times Magazine Super Doctors
supplement.
"I gladly receive this award and hereby I promise to continue my dedicated work to providing superior orthopedic care, bringing its standards to a higher level!" says Dr. Tehrany.
What is Super Doctors?
Super Doctors identifies top doctors as selected by their peers and the independent research of MSP Communications. The list they publish features only outstanding doctors, selected carefully by their peers.
The Super Doctors Selection Process
The Super Doctors Selection and Nomination Process is highly rigorous and includes several phases, designed to identify physicians who through out their work have managed to attain their peer's attention and recognition, and have reached high personal and professional achievement. The process begins with a survey of doctors that results with creating a pool of candidates. All physicians are asked to nominate colleagues they know to be exceptional in the field of their specialty. The second phase is also part of the candidate search. This includes searching medical databases, online sources, and publications for doctors who have attained certain credentials, honors or professional achievements, called "Star Search Credentials." This search also brings candidates to the pool. After the pool of candidates is created, the research phase of the process begins. The research phase results with evaluation of all candidates based on 10 indicators: Years of experience; Hospital appointments; Fellowships; Professional activities; Leadership positions; Academic achievements/positions; Board certifications; Publications, lectures & presentations; Honors and awards; Other outstanding achievement. After the evaluations all nominees are grouped into specialties. Doctors from each group who are given the highest scores during the nomination process are invited to serve on a "Blue Ribbon Panel" where they are asked to review and evaluate a list of nominees from their field of specialty. Next phase is final selection. The selection is based on total points that doctors get from nominations, research and the Blue Ribbon Panel Review. Doctors with highest scores are featured in the Super Doctors list that features approximately 5% of the physicians within the respective state or region. Next phase is contacting the candidates to verify their professional information. They need to verify that they have not been a subject to disciplinary or criminal proceedings. The result of this phase should be clarification that the doctor is active, professional and good standing. At the end of the process, the Super Doctors is published as a special supplement in leading newspapers and city and regional magazines. To learns more about this extensive process, please visit
www.SuperDoctors.com