Daily News: Dr. Tehrany discusses David Wright's Shoulder Impingement
The baseball star, David Wright, is experiencing another setback in his career, due to the newly diagnosed right shoulder impingement that requires immediate care and treatment. According to the Mets General Manager, Sandy Alderson, Mets' third baseman will have to sit out the games in the following few weeks in order to concentrate solely on a full recovery.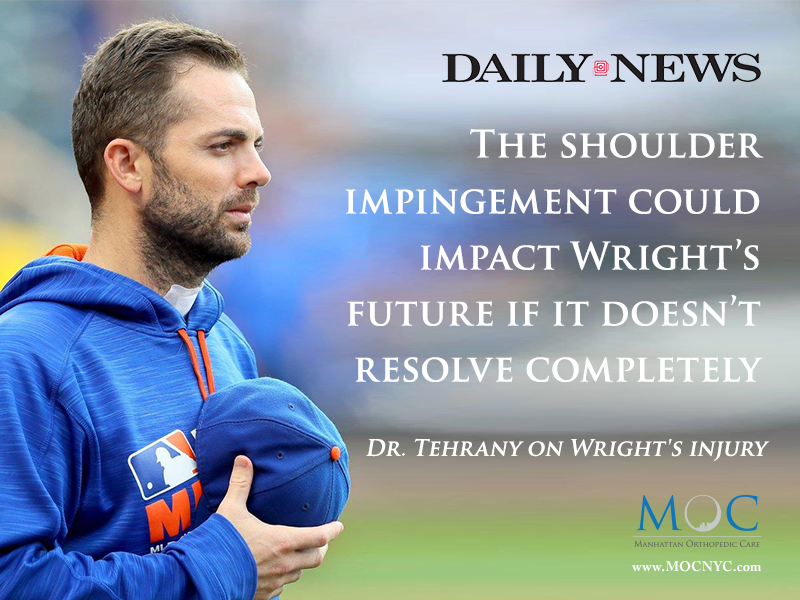 The topic of Wright's shoulder impingement, which raised huge concerns among baseball fans, was recently covered by the NY Daily News. For the purpose of the story, the news outlet asked our experienced shoulder doctor, Dr. Armin Tehrany, to weigh in on the topic.
"The setback is serious enough to warrant close monitoring and treatment," Dr. Tehrany stated. "It will impact his future if it does not completely resolve over time."
For the past couple of years, David Wright has been struggling with two career-threatening injuries. In 2015, he was forced to miss four months because of spinal stenosis in his lower back, and in June 2016, he suffered a herniated disc neck injury that placed him on the disabled list for the most important games of the team's career.
According to Dr. Tehrany, Wright's previous injuries definitely contributed to his shoulder impingement, and made it more severe than it could have been if he hadn't experienced the preceding conditions.
"The shoulder and neck musculatures are closely connected," Tehrany said. "Therefore, the neck surgery, and resultant immobilization and rehab, have affected the biomechanics of the shoulder."
The shoulder impingement occurs as a result of repetitive compression of the tendons in the rotator cuff. The bone that rubs against the tendon causes discomfort and pain, and limits the range of motions. This shoulder injury is typical for people who perform repetitive and dynamic overhead arm motions, and it's very common among baseball players.
At the moment, Wright is waiting for a second opinion. However, in the meantime, he can benefit from several available treatment options that can help him recover and rekindle his career in no time. According to Dr. Tehrany, these options include another surgery and physical therapy, or cortisone injections, PRP Therapy, and stem cells.
Even though Wright can still join his team during the spring training games and serve as a designated hitter, he will not be able to get ready for the opening day.