Dr. Tehrany welcomes Poly's Pre-Med Students to shadow his work through the Poly Prep Internship Program
Dr. Armin Tehrany
, one of the best
knee and shoulder doctors in New York
, opens the doors of his solo private practice to the pre-med students at
Poly Prep
. As a school that offers outstanding and comprehensive learning programs, Poly aims to nurture and develop the upcoming generations' brilliant minds in arts, business, public service, academe, science, athletics, and medicine.As a grateful Poly alumni who has successfully achieved his career goals thanks to the excellent education provided at this school, Dr. Tehrany felt the need to give back, and contribute to the education and growth of the future medical students in the best way he can. The As a grateful Poly alumni who has successfully achieved his career goals thanks to the excellent education provided at this school, Dr. Tehrany felt the need to give back, and contribute to the education and growth of the future medical students in the best way he can. The
Poly Prep Internship Program
felt like the best and most rewarding way to honor his alma mater.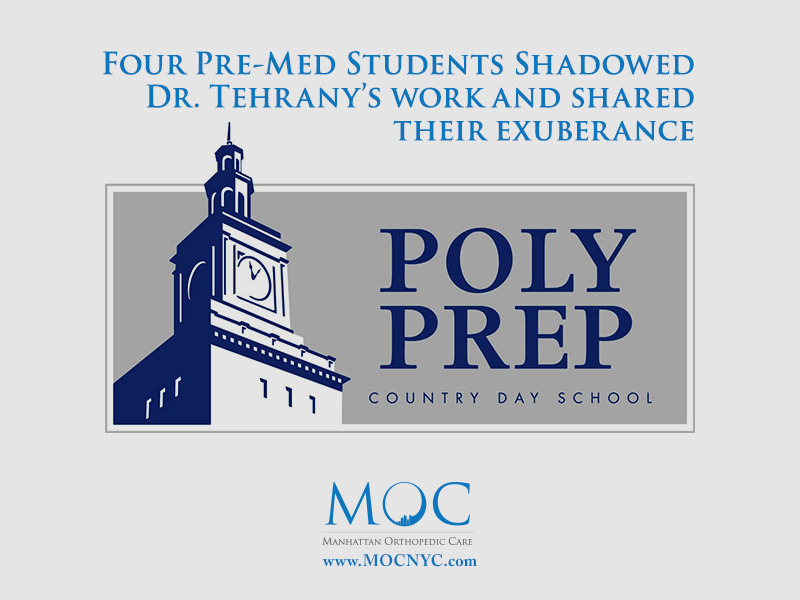 "
I am a Poly graduate, class of '87, and my interest in working closely with the Poly community was rekindled when my eldest daughter enrolled last year. I wanted to give back to my school
," explains Dr. Tehrany. In an interview published on Poly's website, Dr. Tehrany warmly remembers the eight fantastic years spent at the school, and talks about how he wasn't only given the knowledge that has turned out to be the stepping stone for his entire future development, but how he met some of his best, life-long friends there as well. "
My closest friends in life are from Poly
," adds Dr. Tehrany. Being a pre-med student himself once, Dr. Tehrany completely understands the urge that other pre-med students have to participate in the real work of physicians, while they're still going through their education. Dr. Tehrany knows that shadowing a physician can be a life changing experience – it can either prove that the student has made the right career decision, or it can reveal that being a doctor is not what the student is really striving for.
"This internship underlined the importance of medicine in society for me, and it showed me what I want to do in the future. As a result, I am forever in debt to the opportunity that Dr. Tehrany gave me, and I hope to shadow his footsteps in the future," said Kermanshah, one of the students that shadowed Dr. Tehrany recently.
Further in the interview, Dr. Tehrany highlights the "
importance of having a guide or mentor
," showing great understanding about the possible fragility students can experience during the shadowing process in the medical field. In the conversation, Dr. Tehrany cordially recalls his mentor, his 10Th grade AP Biology teacher, Sandra Stone, who "
had a pure love for us kids and a love for teaching
." According to Dr. Tehrany, it was her love for teaching, her wish to impart knowledge and wisdom to her students, and her confidence that they can rise to the occasion, that gave him the courage and determination to become the excellent orthopedic doctor that he is today. Inspired by his mentor's overwhelming care and devotion, Dr. Tehrany selflessly dedicated himself to help the Poly pre-med students learn about the challenges of the work and the life as a physician. Dr. Tehrany spent quality time sharing phenomenal tips on how to talk to patients, how to stay calm during the busiest of days, how to carefully analyze the symptoms, and how to thoughtfully form the diagnosis, with each one and every one of his students. Recently, Dr. Tehrany had four students accompany him during his daily duties. Elizabeth Bernstein '16, Elisabeth Pearson '17, Margaret Perlman '17, Arman Kermanshah '18, and alumna Emma Rodney '15 (UPenn) truly enjoyed their time at Manhattan Orthopedic Care. Thrilled with Dr. Tehrany's professionalism and knowledge, the students couldn't hide their excitement for having Dr. Tehrany as their mentor.
"During the two weeks I interned with Dr. Armin Tehrany, I had the privilege of shadowing both Dr. Tehrany and the physician assistant (PA) in their daily routines," Kermanshah said. "I observed Dr. Tehrany manage his office, look at MRI scans, meet with patients, and give his diagnosis about what the problem was and what he could do to help fix it. He assigned me a work to do at home, such as learning the anatomy of the knee and shoulder, understanding the problems that can go on in those areas, and learning the surgeries available to do on these areas arthroscopically. By the third day of my internship, I had learned most of the medical terminology of the anatomy of the knee and shoulder, and had a strong understanding of how these vital areas can cause severe pain."
"The most rewarding part of the whole experience was making a connection between my newly found knowledge of studying these areas and witnessing Dr. Tehrany operate on these areas at his surgery center," Kermanshah said. "Furthermore, seeing the surgeries piqued my interest in medicine. I saw that the study of medicine can be broken down into two general parts. One part being the medical aspects of it, such as knowledge and understanding of the human body. The other being the service of medicine for the population. Dr. Tehrany showed me this, and it shed light on what I want to do in the future."
Both Elizabeth Bernstein and Emma Rodney had shared their positive experience on review sites, expressing their gratitude for Dr. Tehrany's mentorship.
It was fun and rewarding
," said Dr. Tehrany about his time with the Poly interns. "
I love teaching, especially the young students. I was impressed by how focused and diligent they were,
" concluded Dr. Tehrany.