Dr. Tehrany talks about the biggest orthopedic health scares of 2016: ACL Injuries and Text Neck
st
century has brought significant advancements and innovations in the field of medicine, including cures for a number of diseases that have previously been fatal for humanity. However, as much as these advancements of modern day living have had a positive effect, they've also come at the cost of a serious impact on the environment. As a result of the heavy use of chemicals, the world has been experiencing alarming climate changes and devastating environmental hazards, such as severe air and water pollution. In addition, there has been a significant emergence of new antibiotic-resistant bacteria, and a development of new illnesses carried and distributed by mosquitos.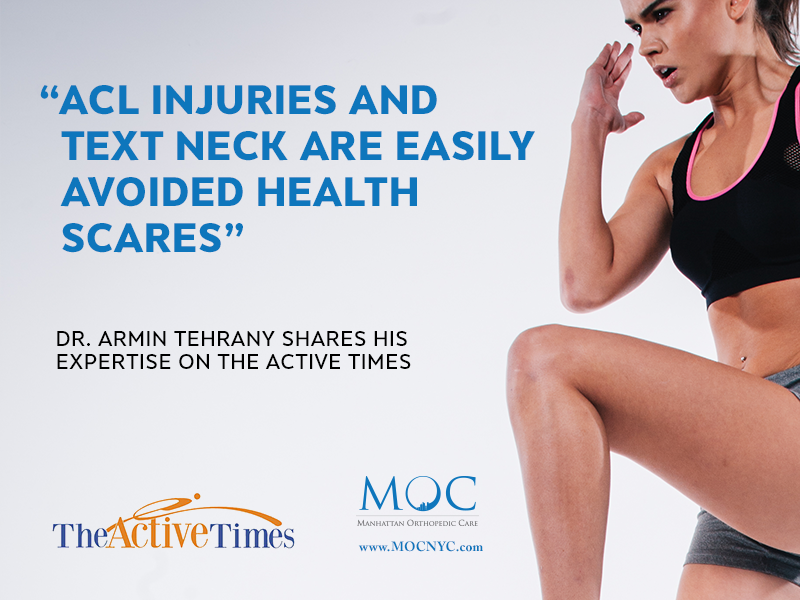 The Active Times, described as the world's best source for educational and informative content for active and enthusiastic athletes, has recently published an article about the health scares that shook the world in 2016. Considering the changes in peoples' lifestyles, it doesn't come as a surprise that, in 2016, the number of
ACL injuries
has significantly increased, making these injuries a common concern among individuals. In addition, the shift in body posture caused by the way people hold and use their phones, tablets, and computers on daily basis, has possibly influenced a new condition, commonly referred to as
text neck
. These conditions, brought about by new technologies, affect almost the entire world population and pose an alarming threat to health, comparable to the Zika virus outbreaks. For the purpose of the story, the editor of The Active Times article asked
Dr. Armin Tehrany
to share his expert opinion on the two most prominent
orthopedic health scares
of 2016:
ACL injuries and text neck
.
"ACL injuries are becoming more common as our society has decided to become more physically fit and active in response to both the obesity epidemic and greater education as to the benefits of exercise. In particular, single sports specialization among children and an increase in time spent on sports has led to a dramatic rise in ACL injuries among the youth," explained Dr. Armin Tehrany.
Dr. Tehrany further elaborates that "
this is an alarming trend since success rates with ACL reconstructions with youth is slightly lower than in adults; therefore it is very important to stress ACL prevention programs as well as a decrease in single sports specialization at least until the age of 14.
" In addition to the ACL injuries, a condition referred to as text neck has also become a major health concern. According to Dr. Tehrany, text neck is becoming a common occurrence due to the facility with which individuals can obtain cell phones. Furthermore, Dr. Tehrany emphasizes the fact that the overuse of large computer screens, which is proven to contribute to bad body posture, can also cause injuries that involve the neck and upper extremities.
"We as a community need to be self-aware as to the abnormal positions that technology places [on] our bodies. Physical and occupational therapy, especially exercises that focus on providing the proper balance to our bodies, are critical in preventing injuries from technology advancement including text neck," concludes Dr. Tehrany.
The article and the complete list of health scares in 2016 is available at
explore.com.