Women's favorite accessories can cause severe orthopedic issues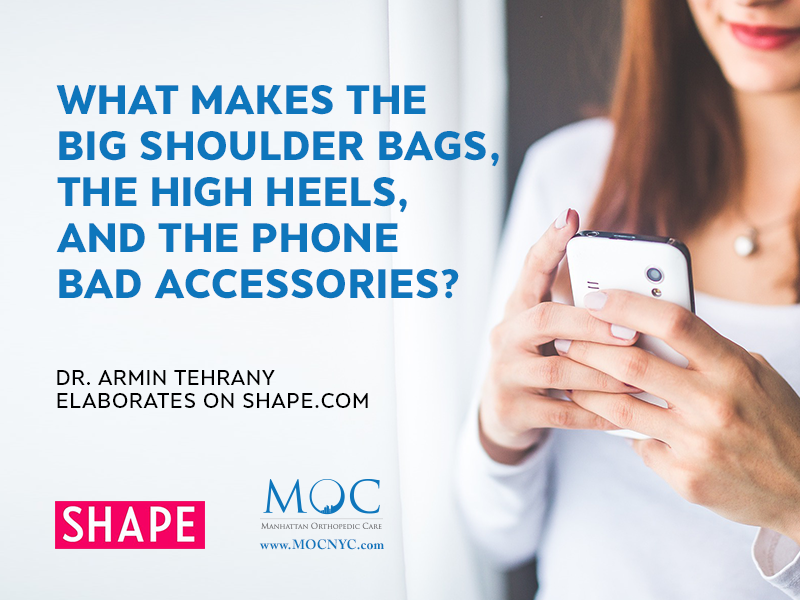 For the purpose of the story,
Dr. Armin Tehrany
was asked to elaborate on how some of the accessories women wear on a daily basis can hurt the back or the knees, and cause severe
orthopedic issues
. Recent scientific studies have revealed that the giant shoulder bags that women adore and gladly carry day and night have the potential to cause severe nerve and soft tissue damage in the neck and shoulders. According to Dr. Tehrany, despite the amount of pleasure and function these items provide, they put women at risk for shoulder sprain or damage to the rotator cuff. Moreover, carrying these large, and often very heavy, bags on the same shoulder, puts an immense pressure on the back, and causes neck pain, disc herniation, or pinched nerves. In order to prevent painful injuries, Dr. Tehrany recommends opting for a bag that "
isn't heavy enough to make the lady uncomfortable
." In addition, he highlights the importance of switching shoulders while carrying the bag. This simple trick helps to better balance the weight between the two shoulders. Further in the article, Dr. Tehrany reveals the unpleasant side-effects of a staple item and women's most cherished accessory – the high heel shoe. Stilettos are a stylish choice that elevates every outfit, but they are also one of the biggest causes of foot pain. According to Dr. Tehrany, "
when women add high-heeled shoes or even medium-heeled shoes, the mechanics of walking change
" because the foot is placed in a rather abnormal position.
"By putting the feet in an abnormal position, you run the risks of strains and tendonitis in the foot and ankle. When the foot is being planted multiple times on the floor in an abnormal position, as happens when you wear heels, the risk is that ligaments or tendons that are subject to abnormal pressure can tear over time, causing an overuse injury," explains Dr. Tehrany.
Lastly, Dr. Tehrany goes into details about the side-effects of using that one accessory that nobody can live without in today's world – the phone. Despite its favorable functionality and its ability to help users connect with family, friends, and the world, the phone is a major cause of neck pain.
"Since we're not holding our phones at eye-level, we're constantly flexing our necks and bending over slightly. Doing that too often can lead to backaches and neck aches and strains of the bones and muscles in the neck and spine," adds Dr. Tehrany.
In an inquiry about good tips on neck pain prevention, Dr. Tehrany suggests that "
adding stretching exercises to the workouts
" greatly relieves the pressure of the head-down position. Additionally, he recommends maintaining a neutral neck position as much as possible while using a phone or computer. The complete article is available at
Shape.com
.