Knicks' Iman Shumpert Has 'No Complaints' About His Sore Knee
more injured players
. Shumpert insisted that he had 'no complaints' about his sore knee, on which he wore a huge ice wrap while he was on the bench. But, there is no doubt that Iman Shumpert's knee injury is affecting his game. He missed all six shots in Game 4.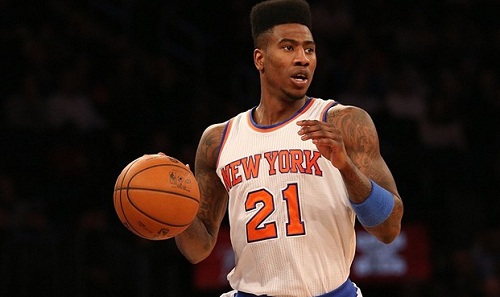 (Image courtesy of NBA.com)
"I wish I could've got shots up the two days in-between the games. But I was taking time off to get my knee some rest, and that affected that. I didn't feel rusty… Those are shots I know I can make and I will continue to take them.", Shumpert said.
Shumpert managed just 16 minutes in the last game, but those minutes were a good sign that he probably did not re-tear his ACL. The MRI revealed no structural damage. Shumpert tore his anterior cruciate ligament in his left knee a year ago, for which he needed surgery. The recovery was long, but he got back to his best. Hopefully, he can give a little bit more now against Indiana in the all-or-nothing Game 5 against Indiana. Only eight teams have managed to win the series after falling behind three games to one.
"Iman was able to play yesterday which is a good sign. He probably did not retear his ACL. Even if there is some partial damage to his ACL, he might simply play throughout the rest of the season. Hopefully it is not the meniscus. That might explain the buckling episode.", Manhatthan Orthopedic Care's physician Dr. Armin Tehrany said.