Nadal's Confidence Led Him To Five Trophies Despite His Long Recovery From Knee Injury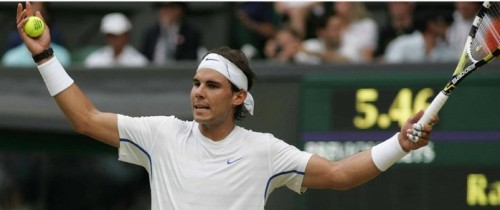 (Image via Facebook.com)
Last year he hurt his knee in a hotel room while trying to stand up from a chair, he felt like his knee has been cracked. With an unbearable pain in his knee, he wasn't able to move at all.  He went through a tedious period of 222 days with different treatment and recovery, but it seems that right now his knee is almost as good as the old one.
"The newest methods to treat chronic patella tendinitis are PRP injections. If they fail, knee surgery can be very beneficial. Fortunately, Rafa does not appear to need surgery yet.", says orthopedic knee specialist Dr. Armin M. Tehrany, M.D.
Within his 26 years, Rafa has a pile of triumphs and victories. It seems like the victories after his comeback have the strongest effect on his confidence and his tennis game. The 10 days in Indian Wells, his first tennis tournament, showed everyone that he can still beat anyone, including Roger Federer, the world No 2, Tomas Berdych, the No 6, and Juan Martin Del Potro, the No 7.
"This was beyond everyone's expectation. Even Nadal's. What we see here is the most genuine winning attitude that a person can grow. This is what boosts Nadal's game. He believes in himself and the pushes himself to the limits. That is what truly matters the most.", says Dr. Tehrany. "I have beaten three top 10 players. This is just unbelievable for me. I'm very, very happy and emotional.", said Nadal to the press after his comeback.
The last triumph was at the Madrid Open and it was 55
th
overall in his career. And this victory brought the perfect enthusiasm for the next matches at the French Open, where he hopes to claim his eighth victory in nine years.
"He still might not be playing like a year ago, but he is getting there very fast. It's impressive that after the injury, his game has only been thriving. He still has a good recovery and rest to go through, but it seems that it won't affect his game at all. And that is only a result of his victorious state of mind." concludes Dr. Armin Tehrany, Assistant Clinical Professor of Orthopedic Surgery at the Mount Sinai School of Medicine in New York.