New York Daily News: According to Dr. Tehrany, Didi Gregorius' bruised heel needs a careful recovery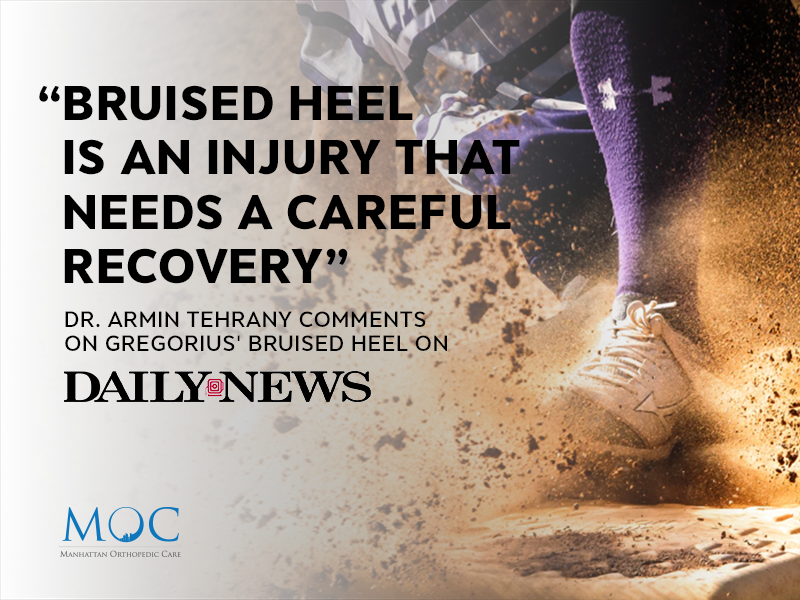 Shortly after the game, the media covered the story of Didi Gregorius's injury and tried to give a prognosis on his recovery. In order to provide the audience with a professional and expert opinion on the injury, the sports editor at The New York Daily News reached out to
Dr. Armin Tehrany
and asked him to be the expert voice on the topic. According to Dr. Tehrany, who is specialized in
knee
and
shoulder
treatment but has successfully treated numerous patients for a variety of orthopedic conditions, a bruised heel is an injury that requires a careful recovery.
"A bruised heel is also known as a 'fat pad contusion' and it is an injury that occurs to the heel's fatty tissue that protects the heel bone. This is a common injury as this part of the foot often takes a majority of the weight during walking or running. A bruised heel typically involves swelling, and treatment involves rest and icing," explained Dr. Tehrany.
Since the heel plays a crucial role in walking and running, Didi needs to be completely free of pain before joining his team on the field again.
"It could take anywhere from a few days up to two weeks for Didi's heel to start feeling better where he can play both offense and defense 100% again. It is important to be cautious to not re-aggravate or re-injure the heel by returning to the field too early," Dr. Tehrany elaborated.
The complete article that covered Didi Gregorius's bruised heel is available at
NYDailyNews.com
.