Carmelo Anthony's Shoulder "Popped in and out"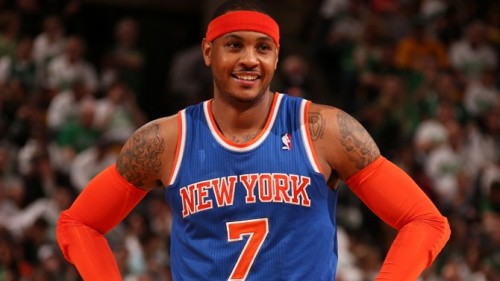 (Image courtesy of NBA.com)
After the game, the forward downplayed the shoulder injury, saying that he is "still here" and "ready to rock" in the NBA playoffs. He proved his motivation scoring 27 points with 11 rebounds in Game 1 against the Indiana Pacers, which the Knicks lost.  Against the Pacers, the forward wore a sleeve under the jersey to protect his left shoulder and keep it in place. But, Anthony has been nursing
the shoulder injury
since the regular season, and according to
Dr. Armin Tehrany
, highly esteemed orthopedic surgeon, he should start thinking about surgery to repair the damaged shoulder.
"When he was first injured by Kevin Garnett, he appeared to me to have subluxed his shoulder. I had a feeling that it had slipped out. He will eventually need surgery for it. I hope he wears a brace during the playoffs to try to prevent recurrence."
Knicks will want to keep Anthony until the end of the playoffs because the All-Star is averaging 29.3 points per game, the second-highest in the playoffs.  But, his shoulder, as Anthony said is "still sore, and the more I get beat up, the sorer it gets", may give him problems against the physical Pacers.