Jets Quarterback Mark Sanchez Suffers A Shoulder Injury
shoulder injury
. Sanchez was left on the turf holding his right shoulder after a big hit from Giants defensive lineman Marvin Austin.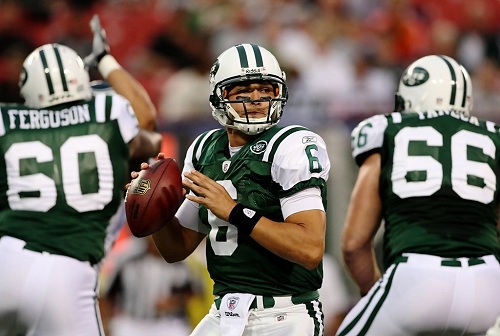 (Image courtesy of Zimbio.com)
The X-ray after the game revealed that Sanchez's shoulder hadn't suffer a serious injury. There was no shoulder fracture, and, at this moment, the Jets have listed Sanchez on 'day-to-day' basis. But, the chances are slim that the star quarterback will be available for the season opener.
"A shoulder injury like this can range from a simple sprain requiring minimal time off to a tear of the labrum requiring surgery. I am sure that an MRI scan will show the severity of the injury. The main concern is always the labrum itself. Most season-ending shoulder injuries among quarterbacks involve the labrum. The rotator cuff is less frequently the cause, a fact that surprises people.", says Manhattan Orthopedic Care's shoulder specialist Dr. Armin Tehrany.