SLAP tear
is a tear of the labrum in the shoulder joint. The labrum is a ring of cartilage around the shoulder socket that stabilizes the head of the humerus. A SLAP tear occurs at the point where the biceps tendon attaches to the labrum. The causes for a
SLAP tear
include direct trauma to the shoulder or constant repetitive motions that place immense pressure on the shoulder. A variety of conservative treatment options can help overcome this painful shoulder injury. However, in patients where the condition is severe or conservative treatments failed, shoulder surgery can be the most effective treatment.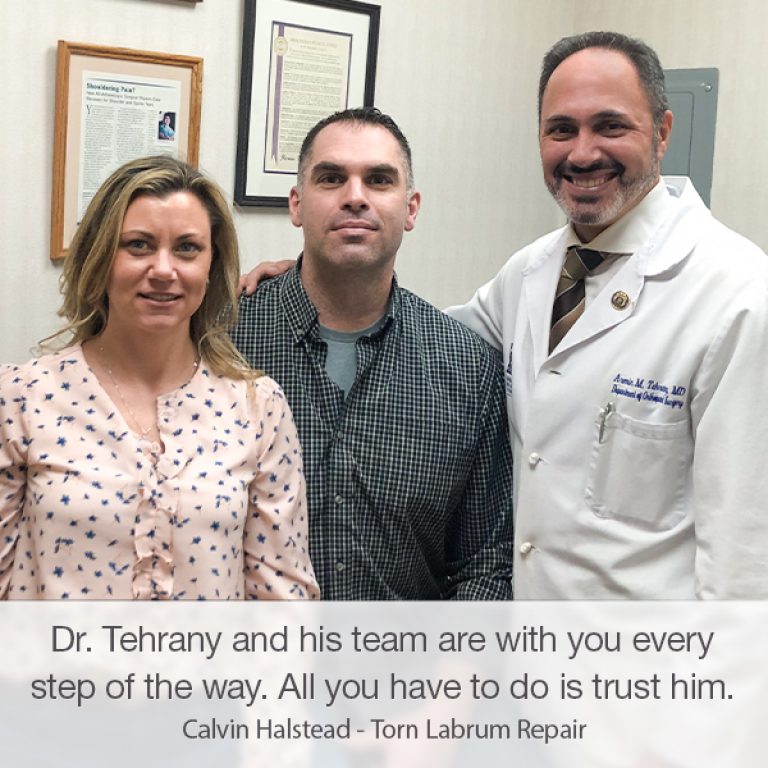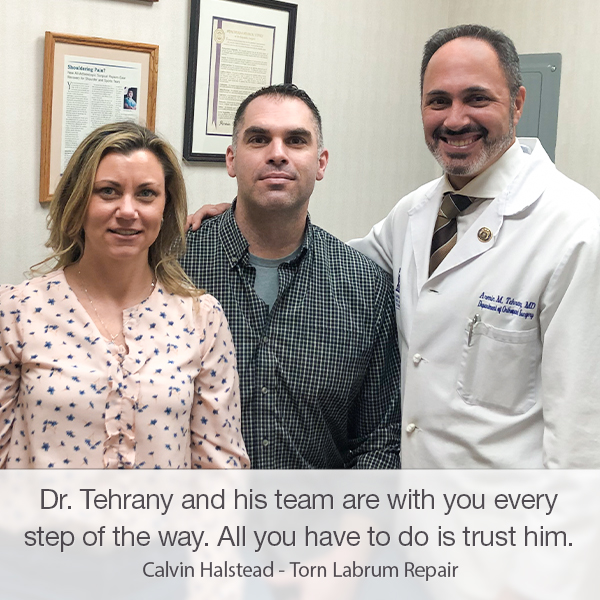 Calvin Halstead is one of our recent patients who underwent an
arthroscopic SLAP repair.
When he came into the office, his shoulder was in excruciating pain. Calvin was interested in a second opinion. As an experienced shoulder specialist, Dr. Armin Tehrany was able to recognize the real cause of the shoulder pain immediately.
"Dr. Tehrany is the BEST! I desperately needed a second opinion, and so I typed "Top Surgeons in NYC" in the search bar, and his name appeared. I researched further and watched some of his YouTube videos… I was impressed!"
Calvin had a torn labrum that caused pain and a sensation of catching when he moved his arm forward. As a caring professional, Dr. Tehrany took more than enough time to explain Calvin the nature of his problem. Additionally, Dr. Tehrany dove into the details of the arthroscopic SLAP repair he recommended for Calvin. He described every step of the surgery and recovery process. The conversation made Calvin comfortable and at peace with his decision to undergo shoulder surgery.
"In March 2019, I traveled 85 miles to meet him and find what was really wrong with my shoulder. According to the first doctor I saw, I had a bad case of tendonitis. Dr. Tehrany, within seconds, advised me I had a torn labrum. He was very thorough during the examination and explained everything. He discussed what my options were and why surgery was the best option for me and my situation."
The surgery was successful. Dr. Tehrany and his team were with Calvin throughout his recovery to provide the support and care that he needed.
"Seven anchors and a year later, I couldn't be happier with the outcome. He and his team are great at what they do, which includes his office staff! Having surgery or being told you need surgery can be very stressful. Dr. Tehrany and his team are with you every step of the way. All you have to do is trust him (easily done after meeting him) and follow his instructions. Thanks again, Dr. Tehrany!"
Thank you, Calvin, for trusting us and allowing us to bring your shoulder back in the perfect shape!
This patient was treated at the Manhattan Office.