Dr. Armin Tehrany
, as Anne Fulton learned in her visits to
Manhattan Orthopedic Care
. Fulton had a
SLAP tear
on her shoulder with persistent shoulder pain, and as a competitive volleyball player, she was concerned about the
shoulder surgery
and the recovery afterward.  As
Anne Fulton wrote in her Yelp review
, Dr. Armin Tehrany understood her priority and provided the best care, including a recommendation for sport-focused therapy.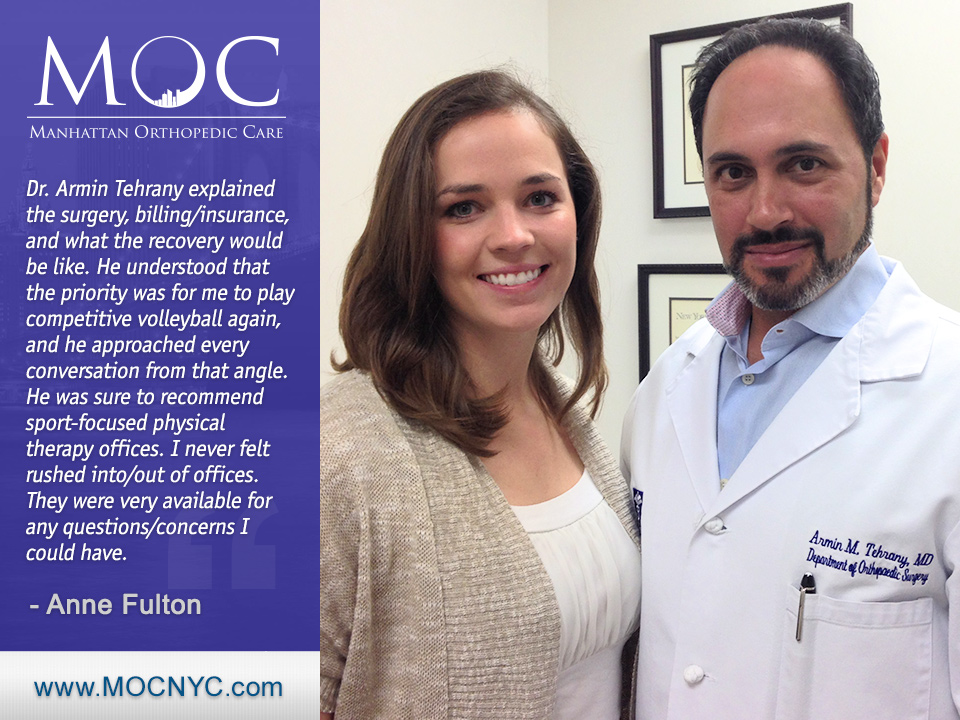 "Dr. Tehrany and his associates do a great job. I felt very well taken care of, from the initial doctor visits, through surgery, and at every Post-Op appointment since. I had a SLAP tear requiring multiple anchors. Prior to surgery, Dr. Armin Tehrany explained the surgery, billing/insurance, and what the recovery would be like. He understood that the priority was for me to play competitive volleyball again, and he approached every conversation from that angle. He was sure to recommend sport-focused physical therapy offices. I never felt rushed into/out of offices. They were very available for any questions/concerns I could have".
Dr. Armin Tehrany is not alone in his efforts to provide the best personal care possible. The staff at MOC is highly professional and caring toward patients, making sure that every experience ends well and with the desired goal.
"The surgery center is very nice. I got a lot of personal attention from everyone there (front desk, nurses, anesthesiologist, surgeons, etc.). While it was a scary experience, they were very caring throughout the whole process. They were sure to explain everything to me. While the recovery hasn't been the most fun process, it is going extremely well. According to my PT, other PTs, and Dr. Tehrany, my shoulder is slightly "ahead of schedule." At 3 months out, I am certainly not fully healed, but I am confident that I will get there due to the care I have received from MOC and my physical therapist."
This patient was treated at the Manhattan Office.