ACL Reconstruction
is a complex knee surgery performed to replace a damaged or torn Anterior Cruciate Ligament, one of the four main ligaments within the knee that connect the femur to the tibia. The goal of the ACL Reconstruction is to restore the stability in the knee joint back to normal or almost normal, to maintain a full and active range of motions, and to prevent further degeneration of other knee structures. During the ACL reconstruction, the injured ACL is replaced by a replacement tissue called graft. The most commonly used autograft is the patellar bone graft or the hamstring tendon graft. The success of the
ACL reconstruction
is closely correlated with patient's dedication to the physical therapy course recommended by the knee surgeon.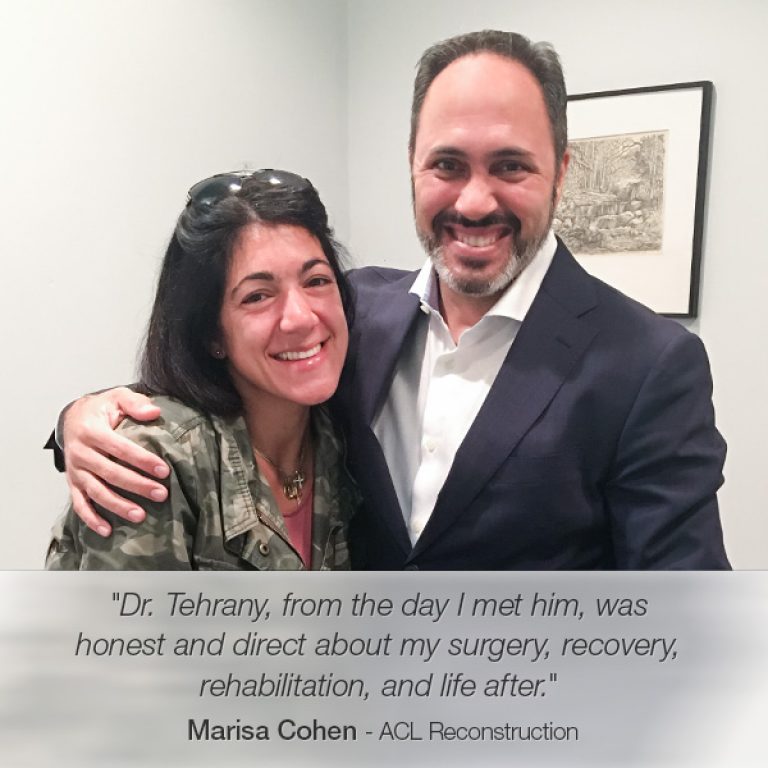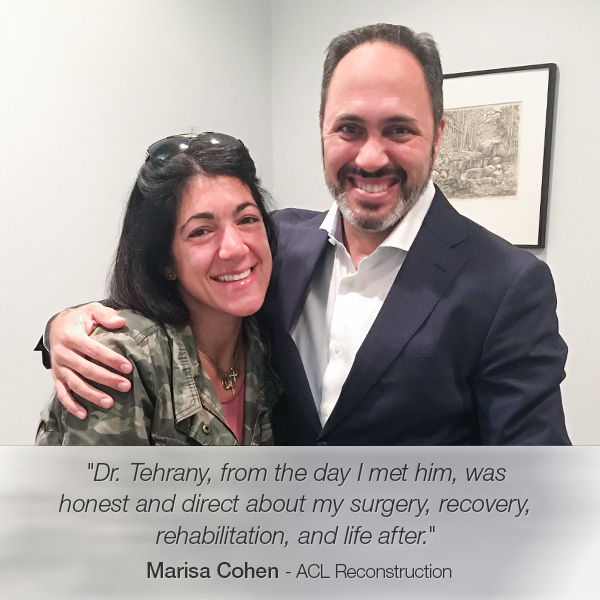 In the case of Marisa Cohen, a lovely lady who suffered a severe tear in her ACL,
Dr. Armin Tehrany
had no doubt about the urgent need for surgical treatment. However, before deciding on the final course of treatment, Dr. Tehrany calmly walked Marisa through all available treatment options while carefully elaborating on the benefits and risks of each treatment. After he provided thorough information about the ACL Reconstruction and its notable success, Dr. Tehrany and Marisa agreed to proceed with scheduling the knee surgery.  Dr. Tehrany and his team made sure that Marisa felt comfortable and safe through the entire surgical experience. They provided Marisa with undivided attention and superb care that truly made her feel calm. Excited that every step of the surgical process, including physical therapy, was phenomenally smooth and easy to take, she decided to express her gratitude by writing an endearing review on Google.
"Dr. Tehrany, from the day I met him, was honest and direct about my surgery, recovery, rehabilitation, and life after. I had my ACL reconstructed and all of my options were discussed. We agreed on a route to take and I haven't looked back. The surgery center was amazing from the front desk all the way through to the nurses in recovery. I was referred after to One on One Physical Therapy for my rehabilitation and Mike Fina was the Physical Therapist that worked with me. He always kept me aware of what was happening and going to be happening as I had never gone through this before and it was all overwhelming. He kept my program challenging and interesting so I was never frustrated with monotony but also kept me realistic to where I was in my recovery so I never pushed myself too hard to get hurt. I would recommend both Dr. Tehrany and Michael Fina highly."
This patient was treated at the Staten Island Office.