Shoulder reconstruction
is a surgical procedure performed to repair an unstable or
dislocated shoulder
. The goal of this shoulder surgery is to improve shoulder stability, restore shoulder function, and prevent recurrent dislocations of the shoulder. This type of
shoulder injury
damages the soft tissues, ligaments, and nerves around the ball of the shoulder. Very often, the shoulder dislocation causes a severe tear in the ligaments and a shoulder surgery is the only treatment that can adequately treat the tear. The
shoulder dislocation
occurs when the shoulder suffers some type of trauma such as a forceful motion, or a direct fall on the shoulder. Since the shoulder dislocation is an injury with a high probability of recurring, the treatment needs to be thorough and performed with utmost caution.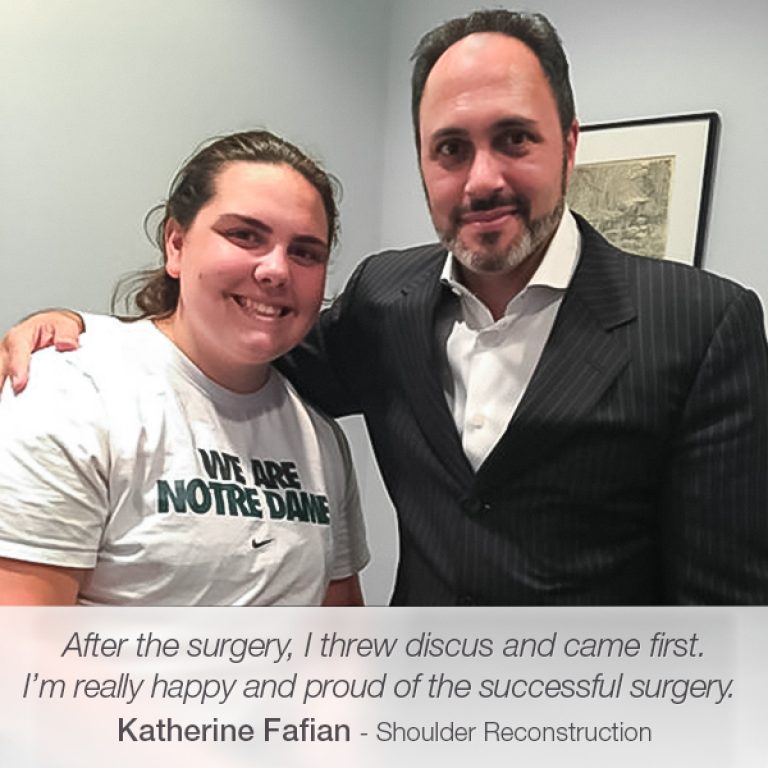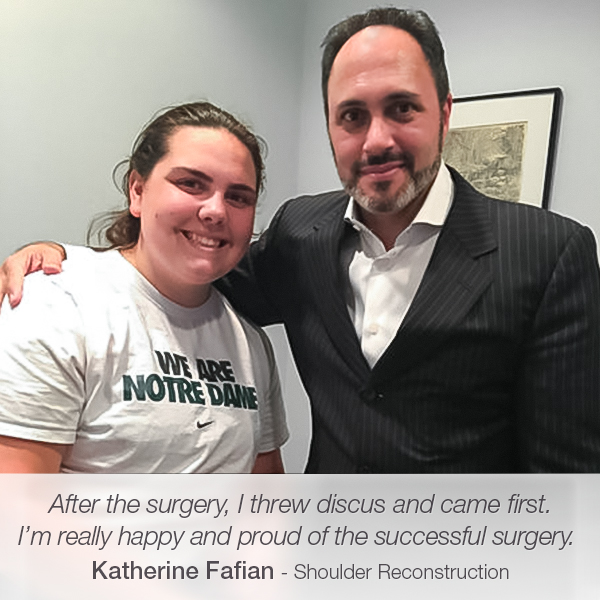 Dr. Armin Tehrany
, one of the top
New York shoulder surgeons
who sees and treats patients in his offices in Manhattan and Staten Island, has helped numerous patients with dislocated shoulders preventing further complications and dislocations. Katherine Fafian, a young and energetic girl, had suffered a painful shoulder dislocation. Due to a wrong diagnose from her previous doctor, she spent over a year in pain being unable to perform simple everyday activities. After her examination with Dr. Tehrany, she was finally properly diagnosed and provided with the appropriate treatment – shoulder reconstruction to fix her shoulder instability and dislocation. Since the successful surgery, Katherine has found a new favorite activity that requires a lot of shoulder strength – discus.  Fortunately, the surgery has immensely helped her shoulder, and she is achieving perfect results. The video below shows how exuberant both Katherine and Dr. Tehrany are as a result of the fantastic surgery outcome: Video transcription:
Dr. Tehrany: I'm Dr. Tehrany, this is Katherine Fafian, and we are here to talk about how successful her shoulder surgery went. Back in 2016, because the shoulder was shifting a lot, we had to reconstruct it. We did, and she did the rehab very well, so well, that she and her mom just told me about her success in the discus, which she switched to. Katherine: I threw discus back in May, and I came in first in New York City for Catholic School. I threw it at 79 feet. Dr. Tehrany: So we are really proud of our success, and we are really happy for her. Katherine: Yes.