Manhattan Orthopedic Care
, we were beyond honored to take care of the orthopedic health of a man who wholeheartedly serves our country.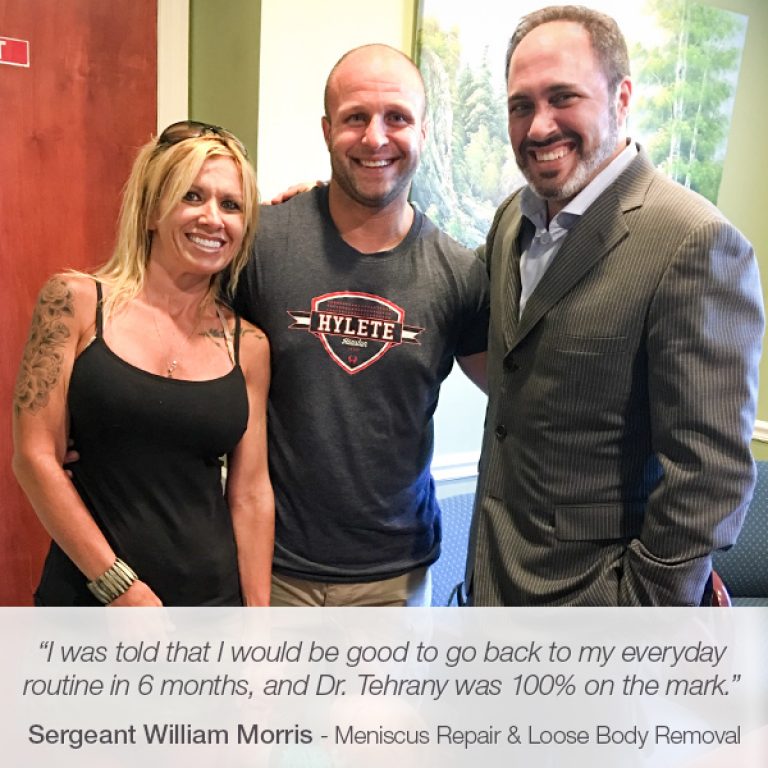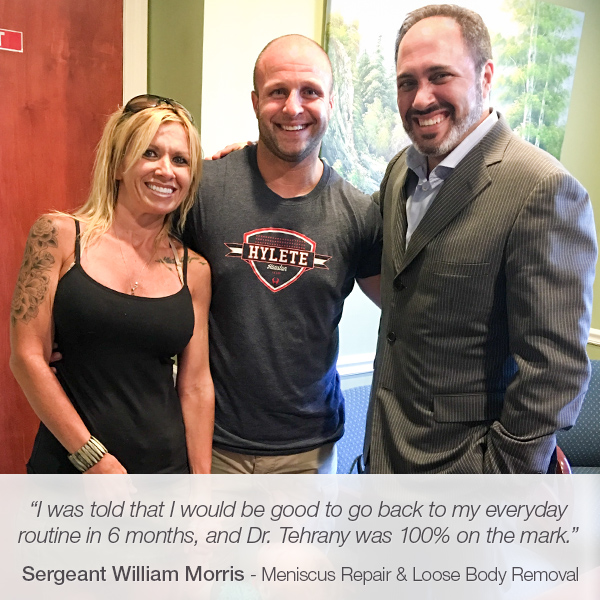 In January, Sergeant Morris visited Manhattan Orthopedic Care for an annoying pain in his knee that prevented him from fulfilling his duties. During his appointment with
Dr. Tehrany
, he was immediately impressed with the team's commitment to providing the most comfortable and soothing environment for him and his family. After the thorough and careful examination, Dr. Tehrany told Sergeant Morris that his knee has suffered a
meniscus tear
that needed an immediate attention. Sergeant Morris had only one request: to be able to go back to his law enforcement job as soon as possible. With the utmost understanding of his condition and his desire for a fast recovery, Dr. Tehrany recommended a 
meniscus repair
as the best treatment option. The
arthroscopic meniscus repair
is an outpatient procedure performed to repair the torn knee cartilage. The goal of this knee surgery is to preserve healthy meniscus tissue. As a highly experienced knee surgeon who has successfully performed the meniscus repair numerous times, Dr. Tehrany had no doubts that the procedure will enable Sergeant Morris to get back on his feet in the shortest amount time.
"I had surgery in January and was told that I would be good to go back to my everyday routine in 6 months and Dr. Tehrany was 100 percent on the mark."
During the recovery period, Dr. Tehrany and his team provided the most convenient environment for Sergeant Morris and his family. They were available to answer every single question, explain each detail about the steps of the recovery process, and ensure the family that Sergeant Morris will up on his feet in no time.
"Dr. Tehrany's office took such great care of me and my family at all visits every step of the way with my recovery. The entire office has been amazing. What I loved the most was how they called me by my Marine Corps rank and wanted me to be 100% to get back to my law enforcement job."
During the surgery, the arthroscope revealed loose bodies in the knee joint that could have caused serious issues in the future. After the meniscus repair, Dr. Tehrany performed
loose body removal
and thoroughly cleaned out the knee joint.
"I would recommend anyone to use Dr. Tehrany and his staff to repair any injury someone would have been dealing with their knee and/or shoulder. And if you're in the military or law enforcement, have faith in him. He and his staff will not steer you wrong and get better, for your family and yourself."
The satisfaction and happiness of our patients are our greatest motivation to continue providing superb and professional orthopedic care. When patients like Sergeant Morris praise our work, there is nothing else to say, but a heartfelt and sincere "Thank you" 🙂
This patient was treated at the Staten Island Office.