shoulder instability
for more than 20 years. As a result of the extremely long period of suffering, Kristen had developed multiple shoulder conditions that had been causing pain and discomfort.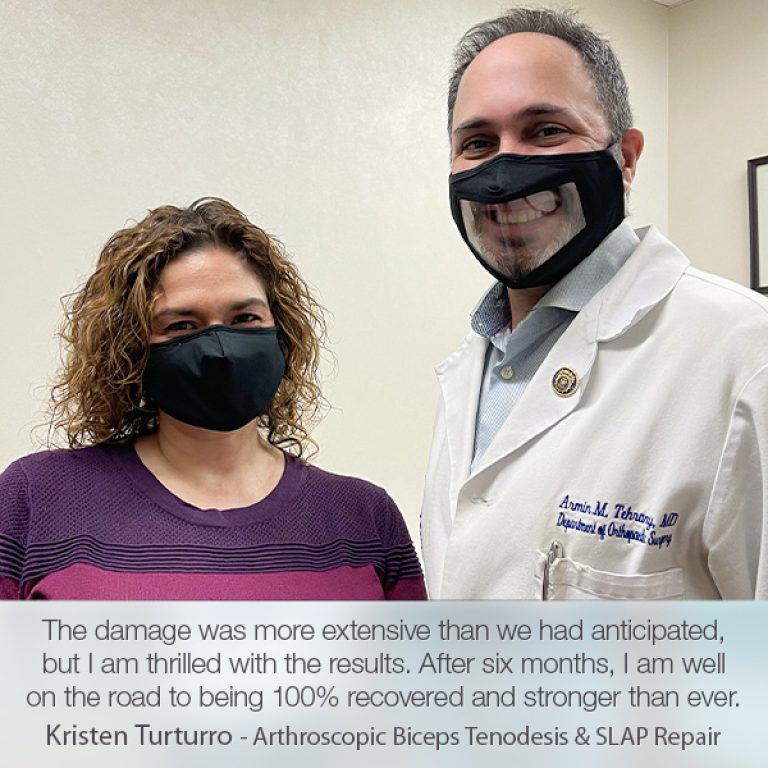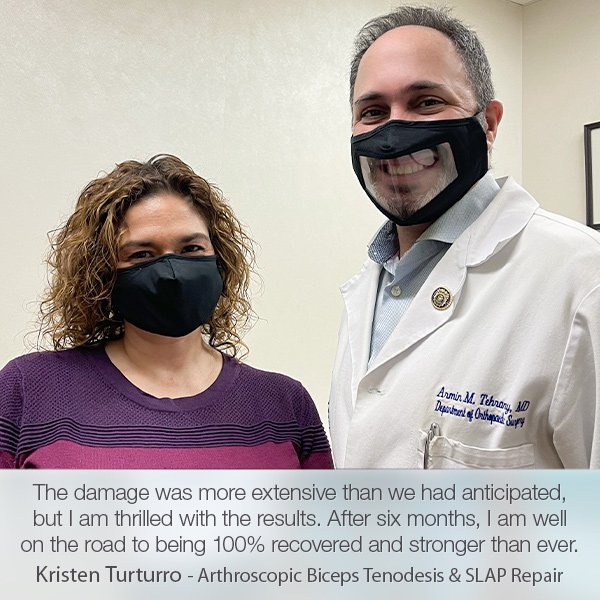 When she finally decided to stop her suffering, Kristen made an appointment with Dr. Armin Tehrany. As an experienced and skillful orthopedic surgeon, Dr. Tehrany immediately recognized the urgency for surgical treatment. After a careful and thorough examination of Kristen's shoulder, Dr. Tehrany diagnosed her with shoulder instability with circumferential labral tearing and subacromial bursitis. However, the surgery revealed more issues than anticipated. Dr. Tehrany began the surgery with biceps tenodesis. After the bicep was tenotomized, Dr. Tehrany moved on to the superior labrum that presented instability. After the SLAP repair, Dr. Tehrany proceeded with right anterior bankart repair, posterior bankart repair and ended the surgery with subacromial decompression. After more than 20 years, Kristen started living a pain-free life once again. She went through extensive physical therapy that helped her get her strength back. Six months later, she is almost 100% back to full strength and overjoyed with the surgery results.
I had been experiencing shoulder instability for over 20 years due to an old high school injury. I finally decided to go through with surgery after consulting with Dr. Tehrany and his team. The damage was more extensive than we had anticipated, but I am thrilled with the results. After 6 months, I am well on the road to being 100% recovered and stronger than ever. Thank you!
Thank you, Kristen, for letting us help you overcome your shoulder problems.