Richard Kline is an amazing person. We've been fans of his movie career for a very long time and we never thought that our destinies would meet. Unfortunately, it happened while he was suffering from a knee pain due to knee osteoarthritis.
He visited Manhattan Orthopedic Care a few years ago. His knee was in pain and he felt extremely uncomfortable, especially since he was a musical actor. All those dance moves and the energy required to perform on stage have made his pain even that more difficult.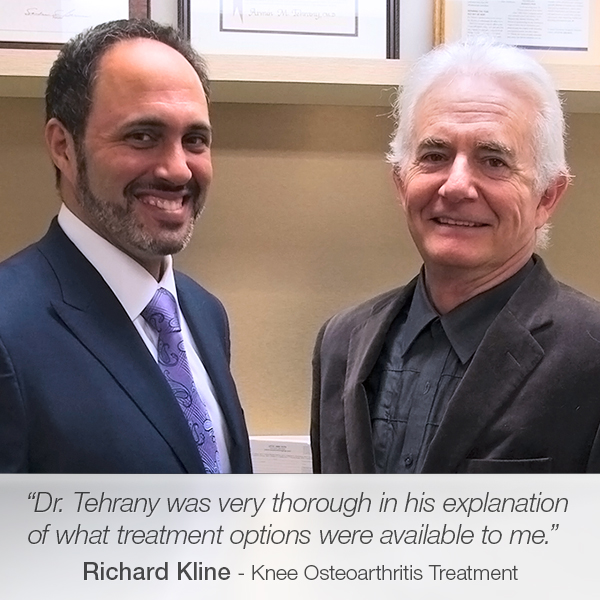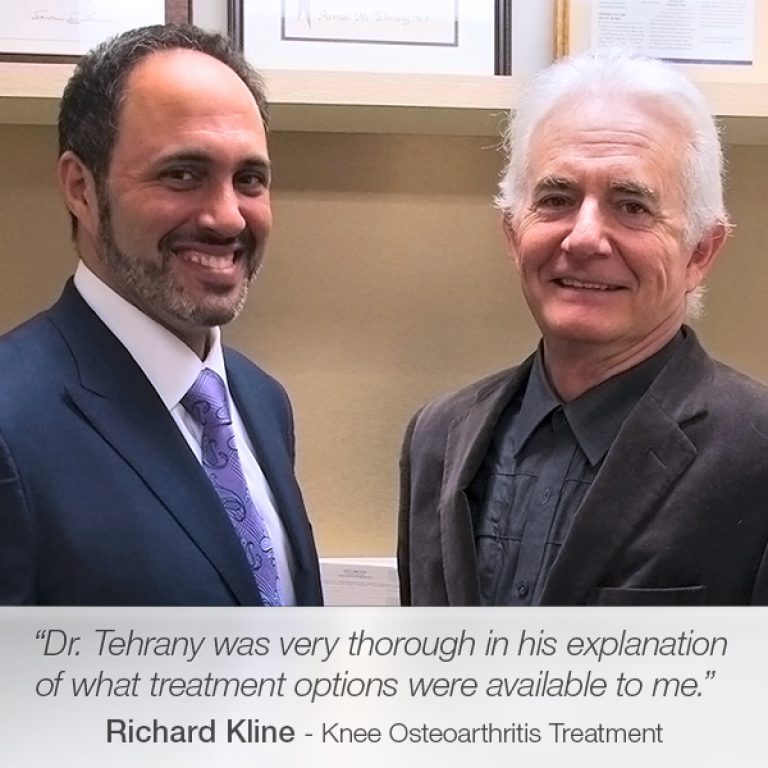 After visiting several other doctors, he finally found the right one. He found Dr. Armin Tehrany, who as Mr. Kline says: "came highly recommended and I wasn't disappointed." Dr. Tehrany was the only orthopedic surgeon who offered different treatment options, which was impressive for Mr. Kline.
Instead of going for a knee osteoarthritis surgery, we recommended a non-surgical treatment with Platelet Reach Plasma. The PRP therapy turned to be the perfect solution to free him from his knee pain.
Now, several years after the knee osteoarthritis, Mr. Kline is perfectly fit and energetic to perform better than he was before his painful knee condition.
Watch the video testimonial from this charismatic friend of ours.
Transcription:

"Well Hi,

I'm Richard Kline. I've been an actor for over 40 years and part of being an actor is working in musicals, which I've done quite a few of.

Few years ago I was on a national tour of a musical called "Wicked" and my knee started acting up. In my left knee I had quite a bit of pain, I was taking Ibuprofen.

I went to several orthopedists, both inside and outside of New York City, of course when I was on tour. I discovered Dr. Tehrany, who came highly recommended and I wasn't disappointed.

My knee was diagnosed as knee osteoarthritis. It was not a situation where I was in horrifying pain all the time, but obviously when I was dancing, or even when I was walking or jogging, it would act up. It wouldn't be acting up just walking around the house, but it was enough of a concern to me to initially see various specialists, and then finally settle on Dr. Tehrany.

What I found interesting and unique about Dr. Tehrany was that he offered options. It wasn't: "Oh, you have to have surgery", or "You need to do this", or "We are going to give you a shot" – it was all of that. We decided on a non-surgical option, which was specifically Platelet Rich Plasma, which is a tongue twister in any language. Three treatments later, I have been almost 100% pain free!

When you get a recommendation for a physician, you obviously want to know their credentials, where they studied, and how accomplished are they. What I found with Dr. Tehrany was that not only he is very knowledgeable, he has terrific what you call bed-side manner. He's got great personality, very easy to talk to and very thorough in his explanation of what treatment options were available to me.

And of course, the staff… the minute you walk into an office you want to feel welcomed and that's one of the great feelings you get from the front desk – to the assistants, to whomever. It's just a very friendly feeling.

My knee has been great. I'm so glad that I had those treatments while avoiding surgery, because, believe it or not, I'm still performing – it's hard to believe, but it's true. I'm still performing, as a matter of fact, I have a musical in the offing and I don't want to be concerned about if I do a couple of dance numbers, that it's gonna bother me. So, right now, everything is really great."
Thank you for your kind words, Mr. Kline, it is a true honor to have you as our friend 🙂