As one of the most active joints in our body, the shoulder is very prone to injuries, especially in individuals that perform repetitive over-the-head motions.
One of the most common shoulder injuries is the labrum tear, occurring in a vast majority of people over the age of 40. Since the labrum contributes to shoulder stability, even the smallest tear can lead to a more serious condition, such as shoulder dislocation.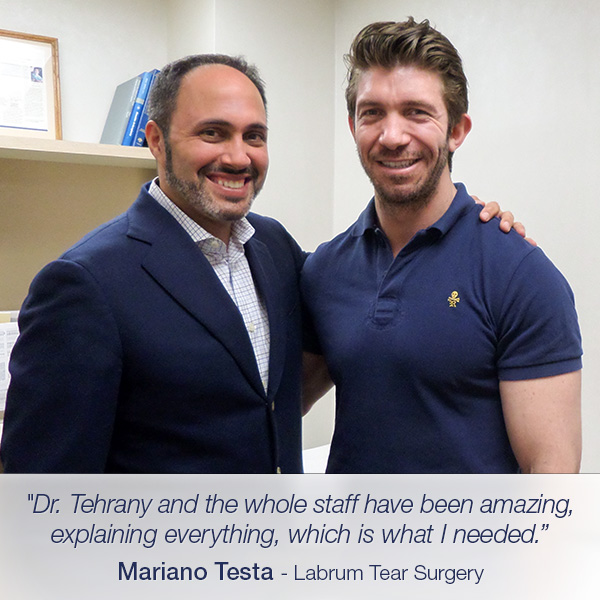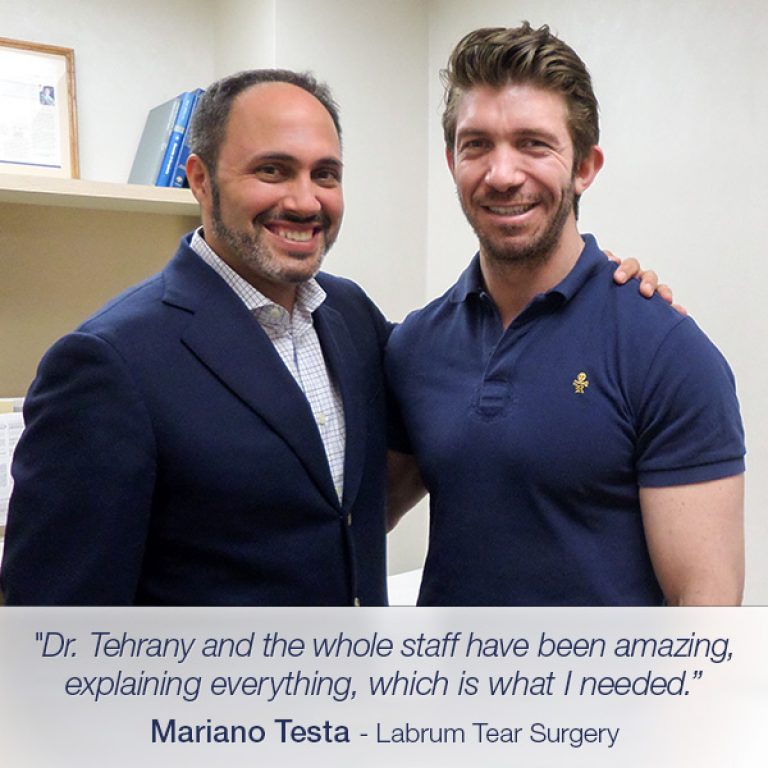 The labrum tear can be caused by different types of trauma or repetitive stresses, but the most common reason is exhausting the shoulder to the point where the labrum is worn out.
Mariano Testa is a patient who experienced the uncomfortable pain of labrum tear. Immediately after his first appointment with Dr. Armin Tehrany, he was scheduled for an arthroscopic labrum tear surgery.
As we always do with surgery patients, we made sure that Mariano was given complete and thorough information about the procedure that Dr. Tehrany will perform in the OR. Knowing all the surgery details truly helped Mariano feel at ease and made him trust Dr. Tehrany even more.
We are more than happy that the arthroscopic labrum tear surgery went perfectly well. The recovery process was short and successful, leading Mariano to a pain-free life with a complete range of motions.
His kind words shared in the video testimonial are the best motivation for us to continue to provide the highest quality care and support to our patients.
"I got a labrum tear from working out and wear and tear. Pretty scary, because when you can't do your everyday activities it gets a little scary.
Dr. Tehrany and the whole staff have been amazing, very helpful, explaining everything like I'm five years old, which is what I needed.
The surgery was actually very easy, he always explained everything that he was doing. Really good. The commitment is afterwards, just recovery and a lot of physical therapy, but again, Dr. Tehrany is always there, the staff is always there. In a way, he makes everything easier."