Metta World Peace Will Undergo Platelet-Rich Plasma Procedure
knee procedure
as Koby Bryant.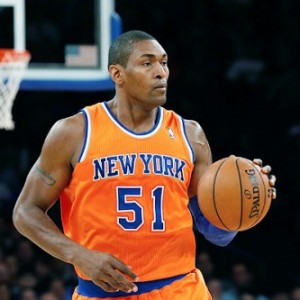 World Peace will undergo
platelet-rich plasma procedure 
on his left knee, which, he said, has already begun in New York. The doctors have already taken 50 cubic centimeters of blood, which is then spun into a centrifuge and injected directly into his knee.  This procedure is fairly new, but it has shown to yield good results for athletes like Kobe Bryant, Alex Rodriguez and Tiger Woods. The
Platelet-Rich Plasma procedure recovery
can be swift, which is good, with World Peace's return on January 6th.  But, he's decided that he will "sit it out". Maybe that is a wise choice, knowing that World Peace has previous problems with his left knee.
"This procedure may be very helpful for Metta. Recent studies at Cornell suggest that, for acute pain, PRP therapy may be even better than cortisone. PRP is different than the stem cell treatment that Kobe received in Germany. Hopefully this can help Meta get back onto the court soon. He may need multiple weekly injections.", says Manhattan Orthopedic Care's knee specialist Armin M. Tehrany, MD, FAAOS.