Surgical Cousins: Orthopedic Surgeon and Plastic Surgeon team up
When two doctors join their minds and skills together, the outcome can be nothing but a success. We have a story that proves this medical theory.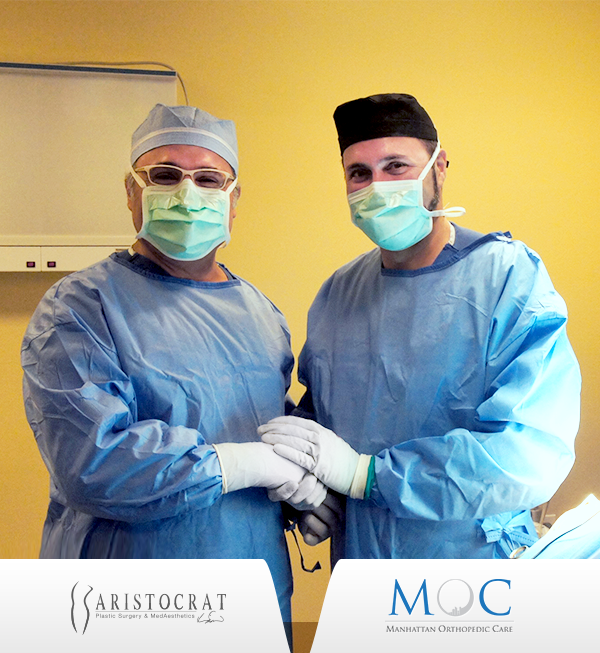 Last year we met Superwoman (the heroine of the story asked us not to share her name and since the story is very inspirational, we are going to refer to her as Superwoman).  Superwoman, a 27 year old woman who was hit by a cyclist, suffered three injuries: a concussion, a separated shoulder and a clavicle fracture. Unfortunately, the first treatment she was given in Albany did not help her recover properly and nine months after the accident she continued to have pain and discomfort that limited her ability to play sports and stay fit.
During her first appointment with Dr. Armin Tehrany, a top New York orthopedic surgeon, he explained to her the treatment options. She was a candidate for either a minor arthroscopic shoulder procedure or an invasive and complex open shoulder surgery.
Although the minor procedure was simpler, with a minimally invasive approach and almost no scarring, its chances of being sufficient and successful were very small. The complex open shoulder surgery had a greater chance of helping Jennifer recover from the shoulder injuries, but it would have left a big visible scar.
After her thorough consultation with Dr. Tehrany and detailed consideration of both options, Superwoman chose to have the complex invasive shoulder surgery. She also asked for something else: a recommendation for a good plastic surgeon to close the open wound and make it invisible!
There was no doubt who the plastic surgeon would be. One of the best plastic surgeons in New York Dr. Kevin Tehrani, Chief of Plastic Surgery at SUNY Brooklyn Medical Center was the perfect choice. Voted by his peers and colleagues to be one of the Top 10 Plastic Surgeons in New York, Dr. Tehrani, who happens to be a cousin of Dr. Armin Tehrany, is a highly esteemed plastic surgeon renowned for his skillfulness in aesthetic plastic surgery.
The shoulder procedure was performed at SurgiCare of Manhattan.  After Dr. Armin Tehrany finished the separated shoulder repair and clavicle fracture surgery, Dr. Kevin  Tehrani took over the surgical process and finished the surgery with an artistic suture.
The overall procedure was a tremendous success. Both surgeons came out of the OR satisfied with the outcome. Afterwards, they met her family in the reception area to share the good news. They explained every detail of both the reconstructive and cosmetic parts of the procedure.
Our patient's mother was the most excited family member to hear that her daughter will no longer be in pain. She felt very comfortable with the surgeons from the beginning because she knew her daughter was in the hands of true professionals.
Today this sweet girl is feeling super fit, free to do any kind of movements she wants because the pain is gone and her shoulder is good as new.