Elite Daily: Dr. Tehrany provides insightful tips on how to run safely in the heat
Elite Daily, a publication that is part of the largest premium publisher Bustle Digital Group and targets millennial women, has recently published an article that reveals why it feels almost impossible to run in the heat during the summer.
For the purpose of the story, the editor asked our very own Dr. Armin Tehrany to be the expert voice in detailing the main reasons why the outdoor run in summer may feel brutal.
As an orthopedic doctor with outstanding knowledge and experience in the field of sports medicine, Dr. Tehrany thoroughly explained the impact that summer heat has on our joints.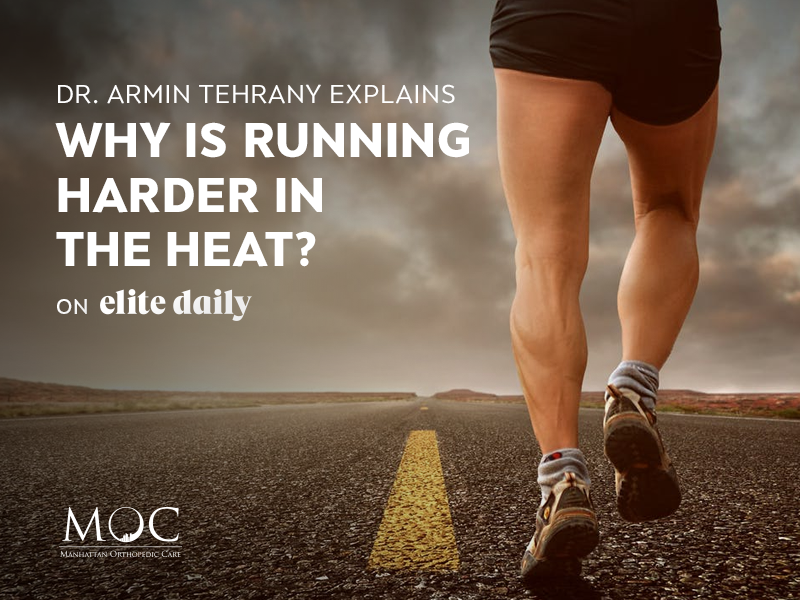 According to Dr. Tehrany, the baroreceptors in our joints are an often overseen reason for increased joint pain.
"Our joints have baroreceptors, which can sense changes in air pressure. When temperatures rise, our joints can feel an increased sensation of pain due to the change in air pressure, which ultimately causes our joints to tighten and stiffen," Dr. Tehrany explains.
Further, in the article, Dr. Tehrany highlights the crucial role of hydration for any sports activity in summer. Drinking plenty of water before and after, even during the outdoor run, significantly improves the function of the joints because the joint cartilage greatly relies on water in order to function smoothly and pain-free.
"Being dehydrated can lead to our joints having less lubrication, which can cause pain, inflammation, and discomfort," Dr. Tehrany adds.
On the question of how to successfully avoid excruciating joint pain, Dr. Tehrany explains that staying cool and hydrated are the most effective ways to ward off the joint point. Furthermore, Dr. Tehrany recommends staying inside as much as possible because that enables the body and the joints to cold down, rest, and restore.
Additionally, he also recommends scheduling the runs during the cooler periods of the day because the lower temperatures in the morning or the evening can make an enormous difference for the entire body, mostly for the achy joints.
In conclusion, Dr. Tehrany recommends "keeping your doctor in the loop when it comes to your workout routine, as they'll be able to give you the best possible advice for staying safe during your runs."
The article is published on EliteDaily.com and is available on this link.