Tennis Injury Watch: French Open 2013 – An Impressive Historic Performance by Rafael Nadal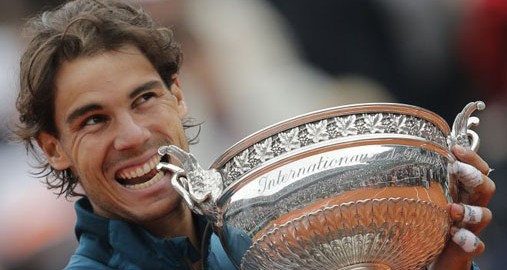 Manhattan Orthopedic Care
, a top New York orthopedic surgery medical practice, shares its impressions from the historic Roland Garros French Open and analyzes Nadal's performance based on the statistics from Tennis Injury Watch Infographic. Rafael Nadal won the men's singles final against his compatriot David Ferrer and became the first player to win eight singles titles in the French Open grand slam. Perhaps even more impressive, Rafa Nadal is also the first player to win at least one grand slam title every year for the last nine straight years.
"What nobody expected from Nadal was his admirable performance after his knee injury and the long break. At Manhattan Orthopedic Care we are huge tennis fans and we found a new hero to look up to. Rafael Nadal suffered a complex injury and went under long recovery period, but still managed to achieve what most tennis players dream of. And that is truly inspiring," says Dr. Armin Tehrany, Assistant Clinical Professor of Orthopedic Surgery at the Mount Sinai School of Medicine in New York.
Last July Nadal hurt his knee in a hotel room while trying to stand up from a chair. He felt like his knee has been cracked. With an unbearable pain in the knee, he wasn't able to move at all. He went through a tedious period of 222 days with different treatment and recovery.
"We are presented with new efficient methods to treat injured knees everyday. Luckily for Nadal, these methods were very effective and his knee is now as good as new, without requiring any knee surgery," says Dr. Armin Tehrany.
Nadal came back to the tennis court in February this year, after an 8-month break and played like he was never hurt. It seems that even he himself had no expectations to win 7 out of 9 tournaments he played after the comeback. It's clear that these victories had the strongest effect on his game and his confidence.
"Nadal says he's a positive guy with positive thinking, and this is what he finds to be the most encouraging. He is a true hero who proves that believing in yourself is the best motivation for a success," says Dr. Tehrany. "In Nadal we see the most genuine winning attitude. This boosts Nadal's game. He believes in himself and he pushes himself to the limits. That is what truly matters the most."
Recently launched Tennis Injury Watch Infographic by 
Manhattan Orthopedic Care
shares information about the most recent injuries of the world's best tennis players on a weekly basis. You can check out the Infographic 
here
.